Cloud Providers are leveraging vRouting in various parts of their networks.
vRouters are used at different levels either for providing basic routing functions, or for providing private peering solutions, or for providing Multi-cloud and Multi-Region secure interconnections. The massive service cloudification and the wide deployment of Service Defined Networks boost the usage of vRouters and facilitate its adoption.
6WIND's solutions are leveraging the 6WIND's core technology to help realize, quickly and efficiently, the benefits of the 5G, IoT and SD-WAN.
6WIND's solutions are thus designed to address the above challenges:
Data confidentiality (end-to-end security)
Growth of traffic (Performance, scalability and reliability)
Ease of deployment, management and operation.
Best cost-performance ratio
Lowest TCO Software Defined Wide Area Network Next Generation Core Network Secure Multi-Cloud Access
Extending a private cloud to the public cloud is a common practice to combine a private cloud setup with public cloud resources such as Software as a Service (SaaS). This mix and match of private and public cloud capabilities, often defined as hybrid cloud, is designed to be flexible and scalable to fit business needs. The public cloud provides affordable services while the private cloud components provide a high level of security and control.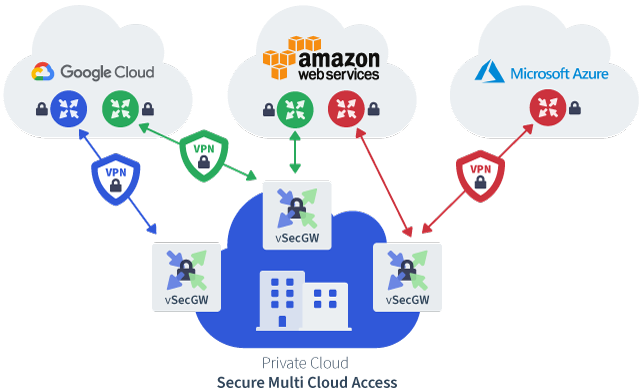 The 6WIND Secure Multi-Cloud Access solution uses 6WIND vRouters to extend the security perimeter beyond the private cloud by providing secure access to distributed cloud assets, software, applications and more across several cloud environments. The solution is designed to:
Eliminate the reliance on any single cloud provider without compromising security
Provide consistent data protection across cloud providers
Deliver High performance and High Availability
The adoption of Service Defined Networks drives the need for virtualized network functions to provide flexible and scalable networking capabilities. The 6WIND vRouters are virtualization ready and are therefore designed to run as VNFs and provide High performance and scalable networking appliances delivering routing, security and large-scale NAT capabilities.
Along the vRouters VNFs, 6WIND provides NFVi's Host acceleration solutions based on its Virtual Accelerator product that enhances the performance and scalability of the virtualization infrastructure.Through its SDN/NFV scalability solution, 6WIND delivers to service providers and enterprises:
High performance and scalable networking appliances with routing, security and large-scale NAT capabilities
Virtualization ready products for seamless deployment, management and orchestration with SDN/NFV controllers and orchestrators
Host acceleration capabilities for enhancing NFVi performance and scalability by providing virtual switching and virtual routing acceleration
Easy deployment and provisioning networking appliances for a seamless and enhanced scalability