To stay competitive and ahead of the curve, Enterprises need to evolve and adapt fast and effectively.
With 6WIND VSR software solutions, Enterprises can in various parts of their networks utilize 6WIND's VSR product suite to benefit from high performance, enhanced security, scalability, and resiliency in addition to the efficiency and sustainability that these solutions deliver.
6WIND VSR software solutions are designed to run on COTS servers either bare metal or virtualized in private and public Clouds to remove the dependency on any specific hardware and thus avoid any vendor lock-in.
Meeting Customer Challenges
Enterprises face many pain points when building their networking services. Some of these key challenges we have heard our customers talk about are cost reduction, moving to software solutions without sacrificing performance, scalability, flexibility and automation. The biggest challenge is the seamless migration from hardware to disaggregated and distributed solutions with minimal operational disruption.
At 6WIND, we help our customers by not only delivering on these key challenges but resolving all their pain points to help them deliver their services seamlessly and cost effectively to their end customer.
Remote Access VPN solution
Remote work allows businesses to save money and scale like never before, and it also enables organizations to create a far more diverse workforce than they could in a geographically-locked office setting.
For securing a remote workforce, organizations need to rely on strong security solutions capable of delivering an end-to-end security that guarantees data confidentiality and integrity.
The secure VPN is the most reliable and flexible way to secure a remote workforce. Employees can virtually access the corporate office from their devices (laptops, desktops and mobile devices) over a secure VPN connection and benefit from all the company services without compromise on the security aspects.
6WIND Remote Access VPN solution relies on 6WIND's vRouter capabilities to deliver:
End 2 End Secure connectivity through IPsec VPNs
Scalable Remote access VPN Concentrator
High availability capabilities for insuring reliable and secure connectivity service
Compatibility with native client security VPN solutions (Linux, Windows, iOS, Android)
Highly scalable performance (throughput, number of simultaneous VPN connections)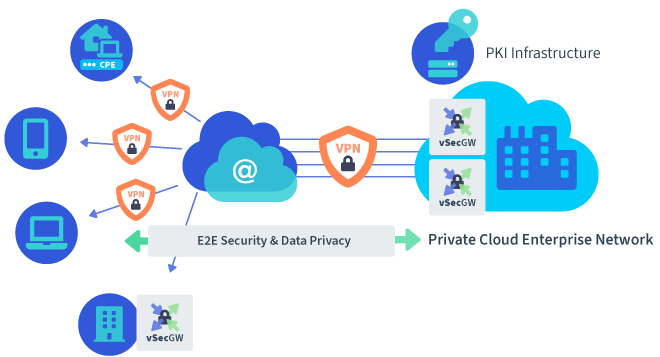 SD-WAN – Infrastructure Security
Enterprises are more and more adopting SD-WAN to reduce overhead and support new applications and services brought by the digital transformation. The SD-WAN technology simplifies the management and operation of a WAN while delivering a number of real-world business benefits including overhead costs reduction and network performance boost.
By offering to enterprises the flexibility of accessing multi-cloud services, the SD-WAN solutions can drastically reduce routing expenses and hardware costs.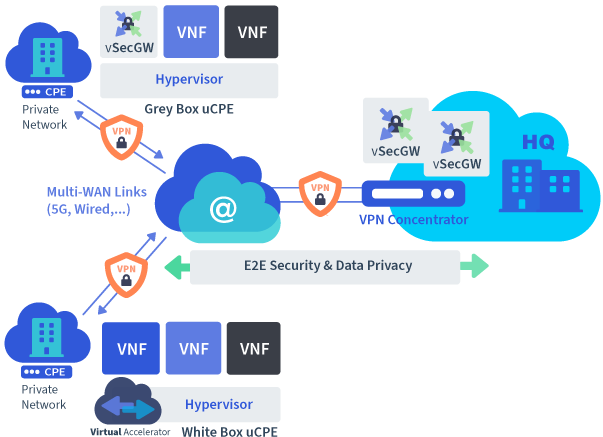 The 6WIND SD-WAN infrastructure security solution, among other benefits it brings to enterprise businesses, improves network performance, enhances the end-to-end security, enables cloud usage, reduce costs and lower the complexity of the network. The solution provides:
Scalable and virtualization ready networking appliances compatible with major SDN and SD-WAN controllers
A reliable end-to-end security for securing management and data layers
High performance VPN Concentrator with multi-tenancy support and high availability capabilities.
Compatibility with native client security VPN solutions (Linux, Windows, iOS, Android)
Dynamic provisioning to ensure easy and flexible deployments
Host acceleration capabilities to boost virtual switch performance
Secure Multi-Cloud Access
Integrating public clouds with private systems allows enterprises to take advantage of public cloud resources such as Software as a Service (SaaS), and benefit from pay-as-you go pricing models to handle high-volume batch computing jobs or sudden traffic spikes while maintaining control and predictability with owned infrastructure.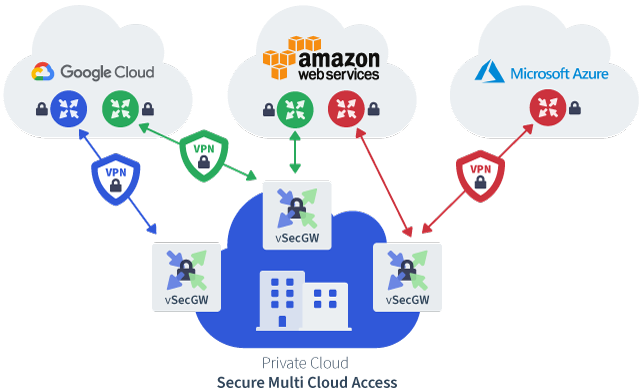 With 6WIND's secure multi-cloud access solution, companies can place each workload in its optimal environment to speed deployments, reduce costs while allowing to deploy the right security measures that meet company security strategies and compliance standards for sensitive data.
The 6WIND Secure Multi-Cloud Access solution uses 6WIND vRouters to extend the security perimeter beyond the private cloud and:
Provide secure access to distributed cloud assets, software, applications, and more across several cloud environments
Eliminate the reliance on any single cloud provider without compromising security
Provide consistent data protection across cloud providers
Deliver High performance and High Availability