Build high performance reliable networking solutions and accelerate your time to market & revenue with 6WINDGate.
With 6WINDGate, we enable network solutions builders to safely secure their product roadmaps and business plans. 6WINDGate helps you shorten your products time to market and provide you the independence from expensive networking hardware while delivering the high performance and security necessary for software to replace hardware.
6WIND's solutions based on its 6WINDGate core technology enable customers to build a variety of reliable, High performance and scalable networking applications ready to deploy bare metal or in virtual machines or containers for the private and public clouds.
6WIND's solutions are thus designed to address the above challenges:
De-risk product feasibility and ensure stability
Build product grade solutions with challenging time to market constraints
Build cloud native products with enhanced resiliency and scalability capabilities.
Ensure robustness while delivering high performance
Ensure maintainability and product evolutions
Support multiple deployment options
6WINDGate is a complete accelerated Layer 2-4 networking solution that provides high performance along with scalability. Designed with a modular approach it enables OEMs, TEPs and NEMs to innovate and build reliable and highly efficient networking solutions.
The Foundation for next generation networking applications
Through 6WINDGate, 6WIND provides its customers independence from expensive networking hardware while delivering the high performance necessary for software on white box servers to replace hardware.
6WINDGate combines more than 350-man years of development time to deliver a highly reliable and efficient technology used for building various networking solutions including:
Packet Inspection Applications (Next generation firewalls, UTM, Lawful intercept, DPI)
Telecom Applications (EPC, NG-Core, RAN, NG-RAN, Security Gateways)
Service Providers and Enterprise Applications (SDN/NFV, SD-WAN, SASE, VPN concentrators). Deep Packets Inspection Solutions Next Generation Core Network Unified Threat Management Secure Access Service Edge Software Defined Wide Area Network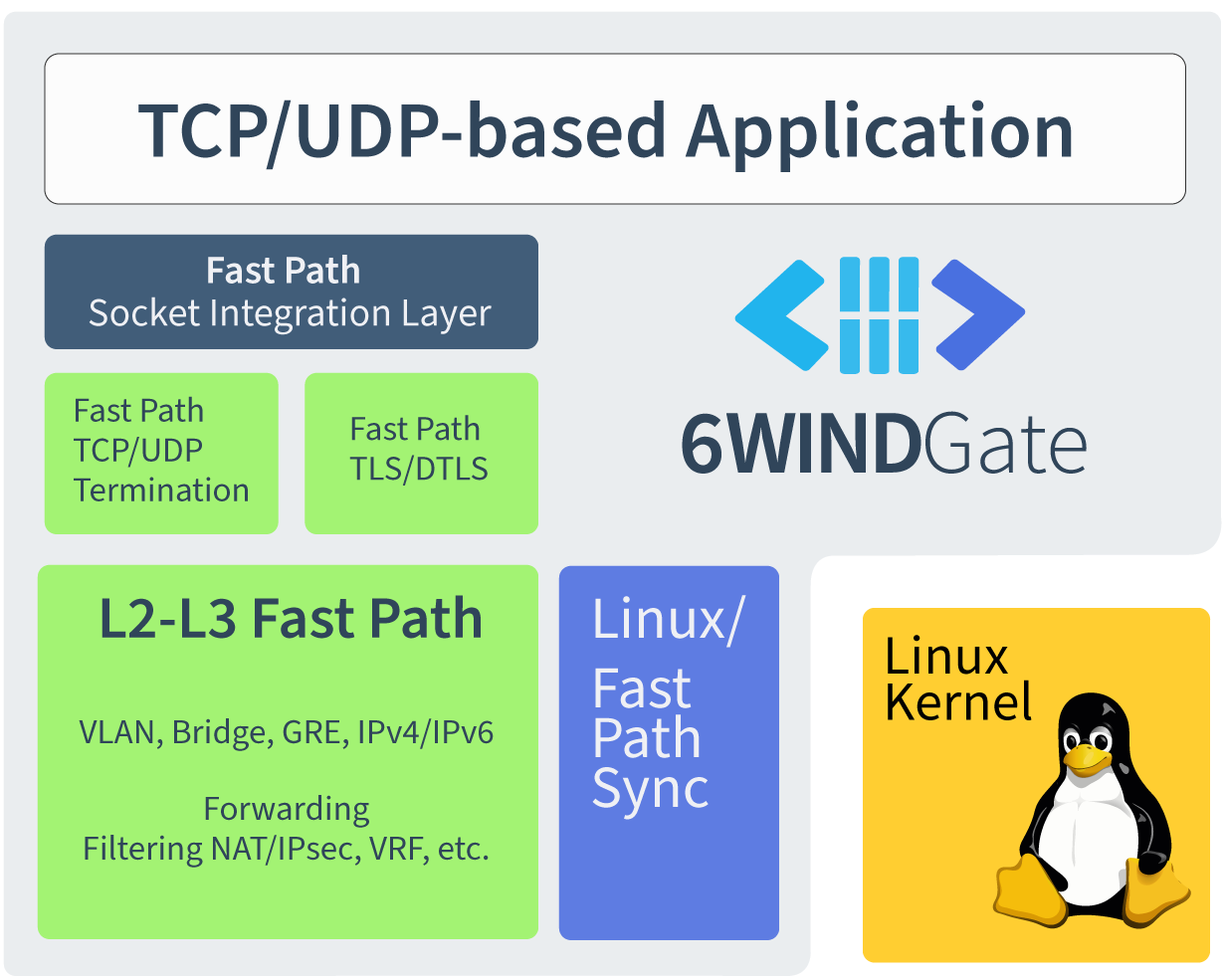 High Performance Proxy Applications
6WIND's customers can leverage the 6WINDGate Accelerated L2-L3 networking stack in combination with the TCP/UDP and TLS/DTLS capabilities to build different types of High-performance TCP/UDP based networking applications.
The range of applications that can be covered by this solution includes:
Performance Enhancement Proxy (PEP)
SSL proxy
Traffic Management solutions
High Performance Packet Inspection Applications
6WINDGate provides an extension plugin that enables customers integrate with 3rd party packet inspection engines, to build a variety of high-performance Packet inspection-based applications.
The range of applications that can be covered by this solution includes:
High performance IDS
High Performance IPS
Firewalling solutions
Anti DDos solutions