Service Providers across the globe are currently leveraging vRouting in various parts of their networks, including the data centers, the network edge and in customer premises equipment (CPE).
The migration to 5G wireless and uCPE is seeing massive acceleration in virtualization and cloudification adoption.
6WIND's solutions are leveraging the 6WIND's core technology to help realize, quickly and efficiently, the benefits of the 5G, IoT and SD-WAN.
6WIND's solutions are thus designed to address the above challenges:
Data confidentiality (end-to-end security)
Growth of traffic (Performance, scalability and reliability)
Ease of deployment, management and operation.
Best cost-performance ratio
Lowest TCO Software Defined Wide Area Network Next Generation Core Network The Mobile Security Gateway enables mobile operators to set up secure tunnels between network endpoints by encrypting the traffic so that it can flow across these endpoints in a safe way.
The solution is built with the 6WIND vRouter product and provides :
End-to-End encryption and secure IPsec tunnels
Support of authentication against a centralized certificate authority
Support for physical and virtual deployments (NFV)
Scalability and redundancy (High availability)
High network performance
Efficiency with reduced operational costs and complexity
Secure IoT infrastructure
The Secure IoT infrastructure solution enables IoT service providers deliver an end-to-end secure service to their customers that ensures data integrity and guaranties the protection of management traffic. The solution relies on the 6WIND vRouter product to provide:
Security Appliance for Bare metal and virtual deployments
High performance and High availability multi-tenant VPN concentrator (for Data and management traffic)
VNF for uCPE secured communication layer
Firewall and encryption capabilities for End-to-End privacy and data security across private and public networks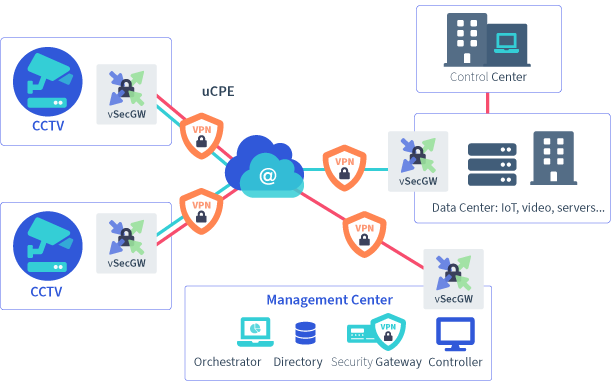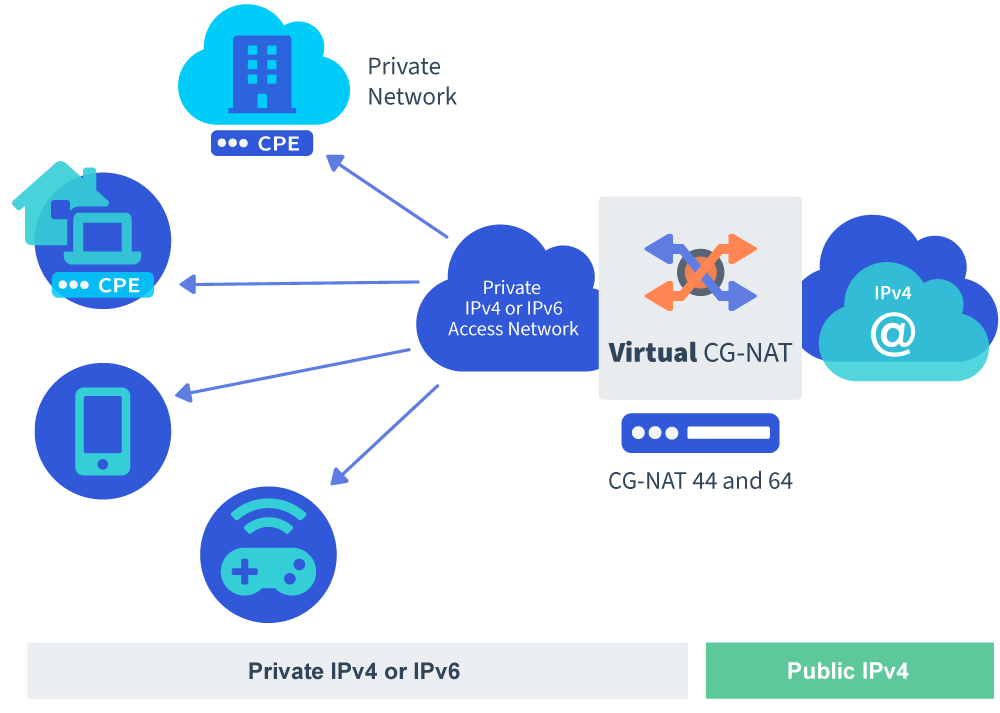 The Carrier-Grade NAT solution enables Internet and telecom Service Providers overcome the exhaustion of public IPv4 addresses by leveraging IPv4 to IPv4 (NAT44) or IPv6 to IPv4 (NAT64) translations to optimize their private networks usage and sustain a rapid growth in the number of subscribers and devices. The solution is based on the 6WIND vRouter product and provides:
High performance Carrier-Grade NAT software solution
Support of NAT44, NAT64 and DNS64
Native support for physical and virtual deployments (NFV)
High scalability to address rapid growth in the number of subscribers and devices
Rich features including Endpoint-independent Mapping (EIM), Endpoint-independent Filtering (EIF), port preservation, hair-pinning and address pooling for a seamless user experience across a NAT environment