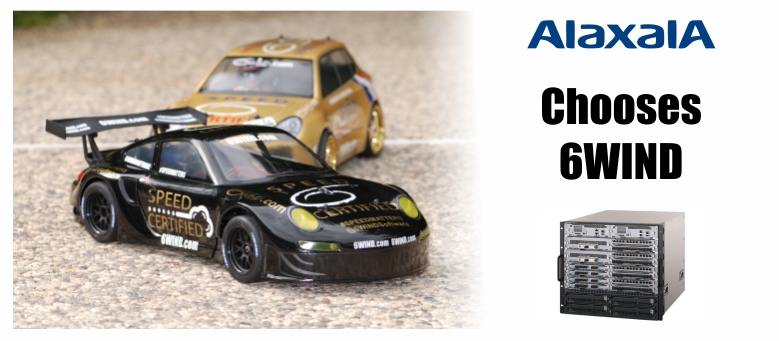 6WIND and ALAXALA Expand 10 Year Partnership for High Performance Telecom Networking
Delivering Packet Processing Acceleration for ALAXALA's Switches and Routers
 Santa Clara, CA, and Paris, France, July 20, 2017 – 6WIND, a high-performance networking software company, today announced that ALAXALA, a networking leader in switching and routing technologies, has expanded its 10 year partnership to increase performance for ALAXALA's carrier grade switches and routers. For the past decade, ALAXALA built its world class networking equipment on 6WIND's 6WINDGate™ packet processing software. 6WINDGate delivers the features, performance and capacity for ALAXALA switches and routers to support the operations of carriers/ISPs and provide core functions in the backbone networks of large enterprise and public facility systems.
To achieve maximum packet processing capacity and performance across its next-generation of telecom networking solutions, ALAXALA continues to expand its 6WIND partnership to include support for new generation multi-core network processors and additional software modules. In addition to 6WIND's software, ALAXALA benefits from 6WIND's network software design skills, software development capabilities and licensed support.
ALAXALA's partnership grants access to the following 6WIND software and benefits:
Networking Performance Acceleration and Portability:

Complete accelerated Layer 2 – 4 networking stacks for application performance and portability across hardware platforms
Scalable software supports a complete range of products for ease-of-use
"6WIND's high performance networking stacks enable us to meet our customers' capacity and performance needs across all size carrier/ISP and backbone networks," said Hiroyuki Eguchi, Director, at ALAXALA. "6WIND provides the software foundation for our success as a leading high performance telecom networking provider."
"We are proud of our 10 year partnership with ALAXALA to provide a key enabling technology for its product expansion and success," said Eric Carmès, CEO and Founder of 6WIND. "Our packet processing software for industry leading multi-core processors gives innovators such as ALAXALA the flexibility to deliver networking products that meet all size network requirements and system evolutions, with a time-to-market advantage."
About 6WIND
6WIND's networking software solves performance and time-to-market challenges for OEMs and Network Builders. The company's packet processing software and software appliances are optimized for cost-effective hardware, such as Commercial-off-the-Shelf (COTS) servers, with a choice of multicore processors to deliver a wide variety of networking and security protocols and features. 6WIND is based near Paris, France with regional offices in China, South Korea and the United States. For more information, visit http://www.6wind.com.