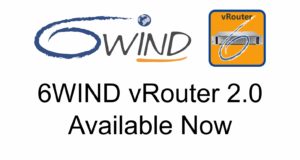 We are open to evaluations for our new vRouter 2.0
6WIND's vRouter 2.0 release has a new CLI and NETCONF/YANG-based management engine, including a complete solution with the following features:
Configuration: Offers both traditional, CLI-based management and management based on YANG, and NETCONF APIs for integration with higher level orchestrators and management frameworks.
Deployment: Includes packaged images for bare metal, KVM, VMware and Amazon Web Services (AWS), and leverages the Linux cloud-init and Ansible features to enable customization of the system.
Monitoring: Supports the traditional SNMP and syslog mechanisms, plus data plane telemetry through sFlow, and graphical analytics with time series data base, such as Grafana.
We continue to welcome feedback from the community, with specific relevance to the following groups.
Cisco, Juniper, MikroTik and other hardware router users
Brocade Vyatta vRouter users who need post-EOL support, features and/or performance
Linux software router users who seek performance and support with integrated management
Analyst firm IDC recently confirmed 6WIND's leadership in vRouter innovation. Our vRouter advantage includes:
Scalable Performance: Up to 12 Mpps per core of IP Forwarding, 18 Gbps per core of IPsec, 1 million routes and 100,000 IPsec tunnels. Performance scales with the numbers of cores and hardware advancements, allowing customers to move from 1G to 100G without redesigning their networks.
DPDK (Data Plane Development Kit)-enabled Features: Comprehensive list including IP routing, firewalling, NAT and IPsec VPN.
Management Options: CLI, Linux and YANG models for APIs that integrate with third party management tools and orchestrators.
---
Program Details
Register today to test drive 6WIND vRouter 2.0.