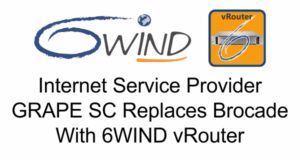 Internet Service Provider GRAPE SC Replaces Brocade Vyatta vRouters with 6WIND Virtual Border Routers
Upgrades to 25G 6WIND vRouters to Support Fast Growth ISP Business
Santa Clara, CA and Paris, France, February 21, 2019 – 6WIND, a high-performance networking software company, today announced that GRAPE SC, an Internet Service Provider (ISP) based in Czech Republic, successfully replaced and upgraded its Brocade Vyatta vRouters with 6WIND's 25G Virtual Border Routers. GRAPE SC deployed 6WIND's Virtual Border Routers, or vRouters, as software appliances on commercial-off-the-shelf (COTS) servers without any changes to its configuration.
6WIND vRouter: The Border Router Software for ISPs

GRAPE SC upgraded to 6WIND's 25G Virtual Border Routers to resolve performance, stability and scalability challenges from its previous Brocade Vyatta vRouters. The ISP tested 6WIND's vRouter for features and performance in a Border Router configuration. The feature configuration test included a BGP link to upstream traffic and an OSPF link to downstream traffic, IPv4/IPv6 IP Forwarding, Dynamic Routing, NAT, Firewall and High Availability. Testing included an active-backup configuration with centralized NAT to support 16,000 customers and confirmed a significant upgrade with 6WIND vRouters.
"We selected 6WIND's vRouters to replace our Brocade Vyatta vRouters because 6WIND immediately solved our performance and stability issues with world-class support for our growing ISP business," said Ladislav Ruzicka, Network Architect at GRAPE SC. "With 6WIND's 25G vRouters, we have high performance software routers that are easy to deploy and manage on our COTS server infrastructure."
"We are proud to provide GRAPE SC with our 25G vRouter that delivers a complete Border Router solution in software," said Eric Carmès, Founder and CEO of 6WIND. "GRAPE SC joins a growing list of worldwide ISPs that benefit from our vRouter's performance, features and management to realize the promise of software-based networking."
6WIND's vRouters are available in bare metal and virtual machine (VM) configurations and run on COTS servers. They include Virtual Border Router and Virtual Security Gateway software packages with license options from 1G to 100G throughput. Built with DPDK (Data Plane Development Kit) for networking performance, 6WIND's vRouters scale up to 12 million packets per second per core of IP Forwarding and 18 Gigabits per second per core of IPsec VPNs. Management options include a CLI and NETCONF/YANG-based APIs for integration with third-party network management solutions.
About 6WIND
6WIND's networking software solves performance and time-to-market challenges for Service Providers, Enterprises and OEMs. The company's flagship vRouter technology is available in software appliance, source code and hypervisor networking form factors optimized for cost-effective hardware, such as Commercial-off-the-Shelf (COTS) servers. 6WIND is based near Paris, France with regional offices in China and the United States. For more information visit: http://www.6wind.com.