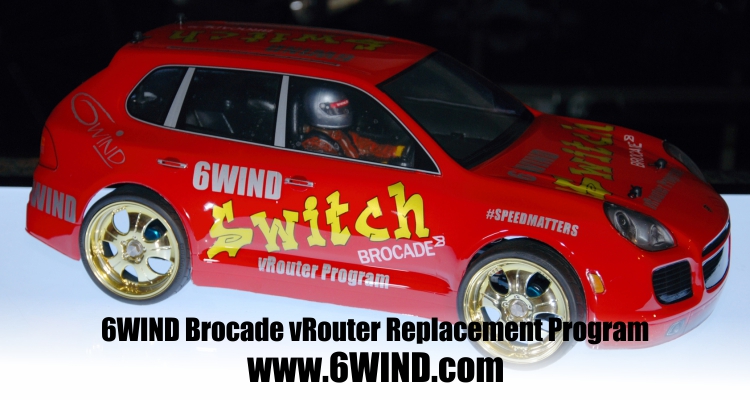 6WIND SWITCH Brocade vRouter Replacement Program
Following on the success of a previously limited program, 6WIND is pleased to announce an extension of the 6WIND SWITCH Brocade vRouter Replacement Program, to address the needs of Brocade Vyatta vRouter customers who are looking for an alternative networking solution.
Brocade's Vyatta vRouter is now end-of-support, and users can transition to 6WIND's Virtual Border Router and receive immediate support. This offer now also applies to the VyOS Virtual Border Router product.
6WIND Virtual Border Router is a high performance software router for bare metal and virtual machine deployments on commercial-off-the-shelf (COTS) servers. It includes routing and firewall features with additional 6WIND Virtual Security Gateway features to create IPsec VPNs. Since the program announcement in August 2017, customers are experiencing over 5X performance increase in IPsec VPN use cases, while using only 1/3 of existing server resources.
The 6WIND Virtual Border Router Replacement Program Advantage:
Performance: 12 Mpps per core of IP Forwarding and 12 Gbps per core of IPsec, standard 1/10/40/100GE NIC support and scaling up to 1 million routes and 100,000 tunnels on Intel-based servers.
Migration from Brocade, VyOS or Hardware Routers: Linux-based management tools with support are available for cross-platform migration, whether from existing software or hardware routers.
Support: Available today with options for subscription and perpetual licenses. Licenses are priced per performance from 2G to 100G.
6WIND SWITCH Brocade vRouter Program References
Official Press Release Announcement
6WIND Virtual Border Router Data Sheet