What is White-box networking?
High-Performance Scalable Routing, Security and Internet Peering for Enterprises, Data Center Operators and Service Providers Networks
White-box switching and routing are the new norms. Service providers are looking for efficiency combined with cost reduction by moving from traditional expensive and dedicated hardware devices to white-box solutions. 
The demand for bandwidth-intensive applications such as video streaming, virtual reality and other 5G applications is continuously increasing. The need for advanced scale, fast convergence, protocol visibility, strict security and cross-domain automation are key considerations for a future-proof high-end solution and investment protection.
6WIND's Virtual Border Router is the leading high-performing software-based router that runs on commodity hardware. It can be used for a variety of network routing use-cases, including:
Universal CPE

Provider Edge

Aggregation routing

Border Internet Peering

Router Reflector (RR)

IPsec VPN aggregation (DMVPN)

Carrier-Grade NAT (CGN)

Data Center Interconnect (DCI) with EVPN/VxLAN capabilities and more.
In this blog, we look at how simple it is to start the white-box networking journey. First, we will look at how to select the software and the white-box hardware. Then, we will also explore the most common Service Provider use cases.
Flexibility to deploy in Virtual Machines or in Bare Metal
6WIND Virtual Border Router can be deployed in virtual machines on your existing virtual infrastructure or in bare metal on the hardware of your choice. 
As an example, for a BGP border router, you can set up a high performing full scale-route 10Gbps Peering Border Router by sourcing a Commercial-Off-The-Shelf server with the following server specifications (for less than 3000$ from your preferred supplier):
1x Intel® Xeon® Silver 4215 2.5G, 8C/16T, 9.6GT/s, 11M Cache, Turbo, HT (85W) DDR4-2400

 

2x 8GB RDIMM, 3200MT/s

1x 480GB SSD SATA Read Intensive 6Gbps 512 2.5in Hot-plug AG Drive, 1 DWPD, 876 TBW

1x Intel X710 Dual Port 10GbE SFP+ & i350 Dual Port 1GbE
CAPEX for such a Border Router (Hardware + 6WIND Virtual Border Router software is the lowest TCO in the market you will find) This is at least half the price compared to similar known hardware vendor solutions with their best-discounted rates.
Moreover, the same hardware can be used as a CG-NAT router in addition to the Border Router function. 
Another asset of the 6WIND vRouter solution is the ability to build a 10Gbps CPE by selecting a tabletop entry-level platform such as Dell's VEP1405, and run 6WIND's vRouter on top for low traffic requirements.
Further hardware options are available from your preferred distributors. Below are some examples of hardware:
Our team will be glad to help you with hardware recommendations based on your use case.
6WIND Virtual Border Router Use cases
Border Router
Border Routers (BR) are the isolation point between private enterprise networks and public internet service provider (ISP) networks.Minimal requirements include:
support

for multiple full Internet routing tables

scalable routing protocols such as BGP and OSPF

Advanced Firewall filtering and policing

BGP Internet peering scale

device management

Flowspec DDoS protection
The 6WIND solution scales from 1 Gbps to 200Gbps on a single instance and up to 16Mpps forwarding capabilities per CPU core. The solution also provides much faster protocol convergence times.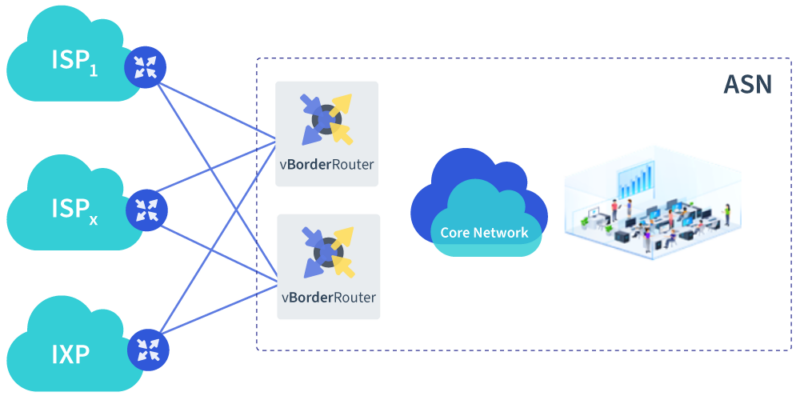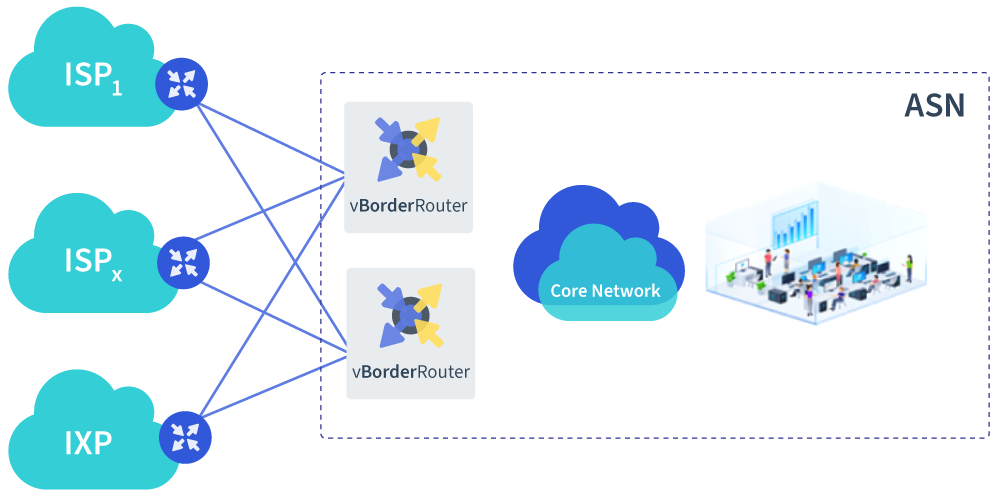 Security Gateway / VPN Concentrator
The Turbo IPSec application provides highly scalable DMVPN capabilities that would allow small, mid-scale and large Enterprise to securely create their own light SD-WAN networks over agnostic transport access such as Fiber, Radio Transmission, LTE and 5G. The 6WIND Turbo IPSec supports 14Gbps to 18Gbps per CPU core (depending on the model performance – Intel Xeon Silver, Gold or Platinum) and up to 100,000 IPSec tunnels per instance with 1000 tunnels established per second. On a 16-core CPU, the Turbo IPSec scales to 200Gbps+. The performance increases linearly with the number of CPU cores installed in the system. As such the solution will scale to meet the ever-increasing demand for encryption.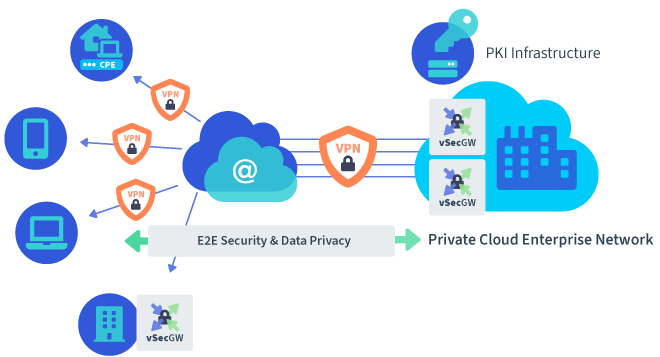 Carrier-Grade NAT
The Virtual CG-NAT application provides highly scalable NAT capabilities to the Border Routers that can reach 30 Million concurrent sessions per 32GB of RAM (scales with memory) on a single virtual instance while serving traffic that can reach 200Gbps with the adequate CPU cores configuration.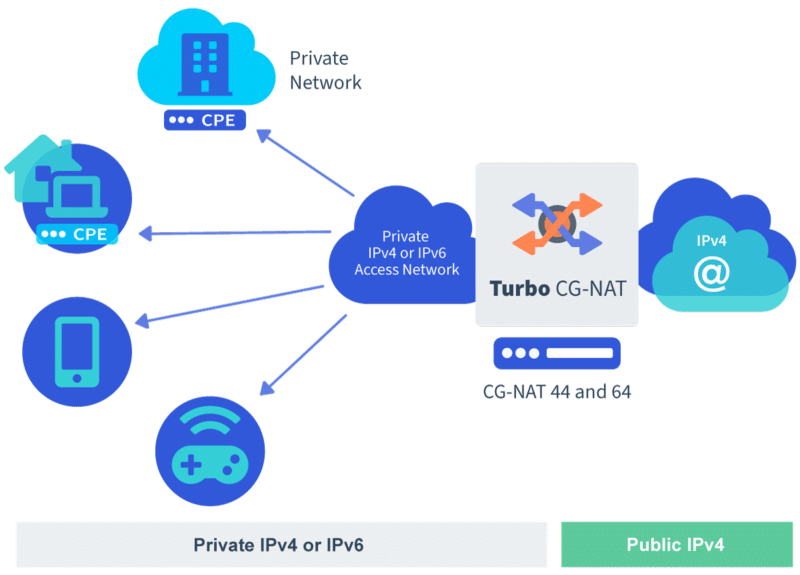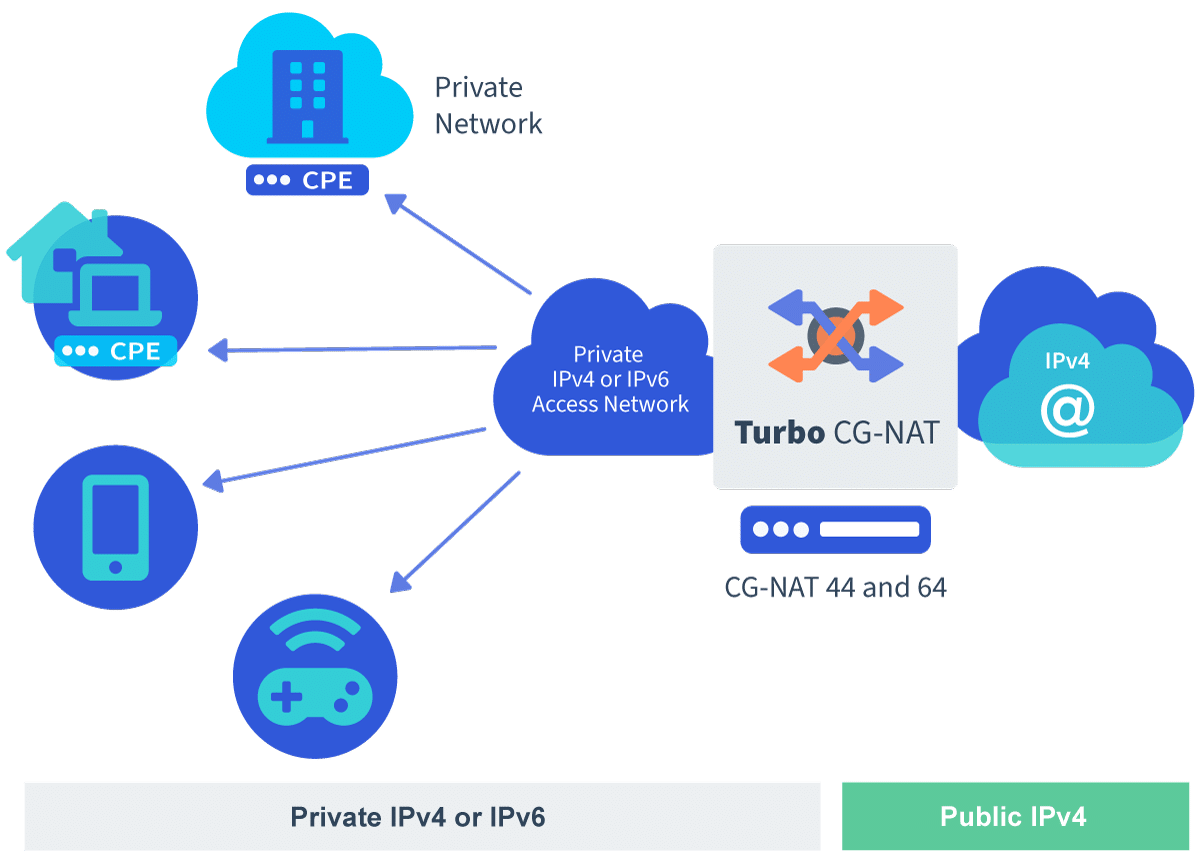 Provider Edge Router
Provider Edge (PE) routers are the demarcation point between multiple service providers or enterprises using BGP, as well as feature-rich aggregation nodes providing scalable L3VPN and L2VPN services with Multi-Protocol BGP as well as advanced QoS and Segment Routing* / EVPN*.
Data Center Interconnect
Data Center Interconnect (DCI) technologies are currently reaching a critical juncture. Increased demands for ultra-high speed distributed traffic combined with Content Service Providers migration to cloud-based services is forcing a reshape of how today's data centers are designed and connected. The need for change dictates to design data centers infrastructure that are optimized for scalability, efficiency and security. 6WIND Turbo router includes future-proof technologies such as Segment Routing*, BGP EVPN and VxLAN to help transitioning to a secure operational cloud architecture.
6WIND vRouter rich feature-set for network-wide use cases
The below architecture resumes in a single topology all the above functionalities with a rich feature-set that positions the 6WIND Virtual Border Router in a leading high-performance software-based network: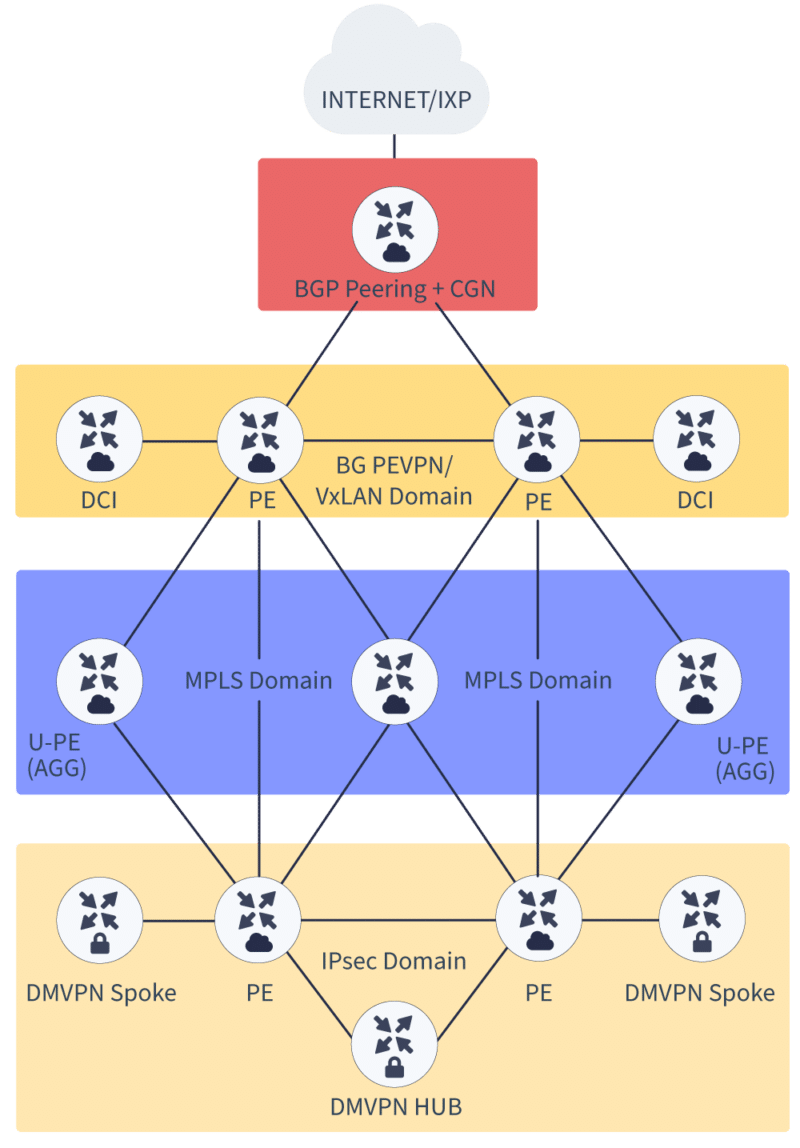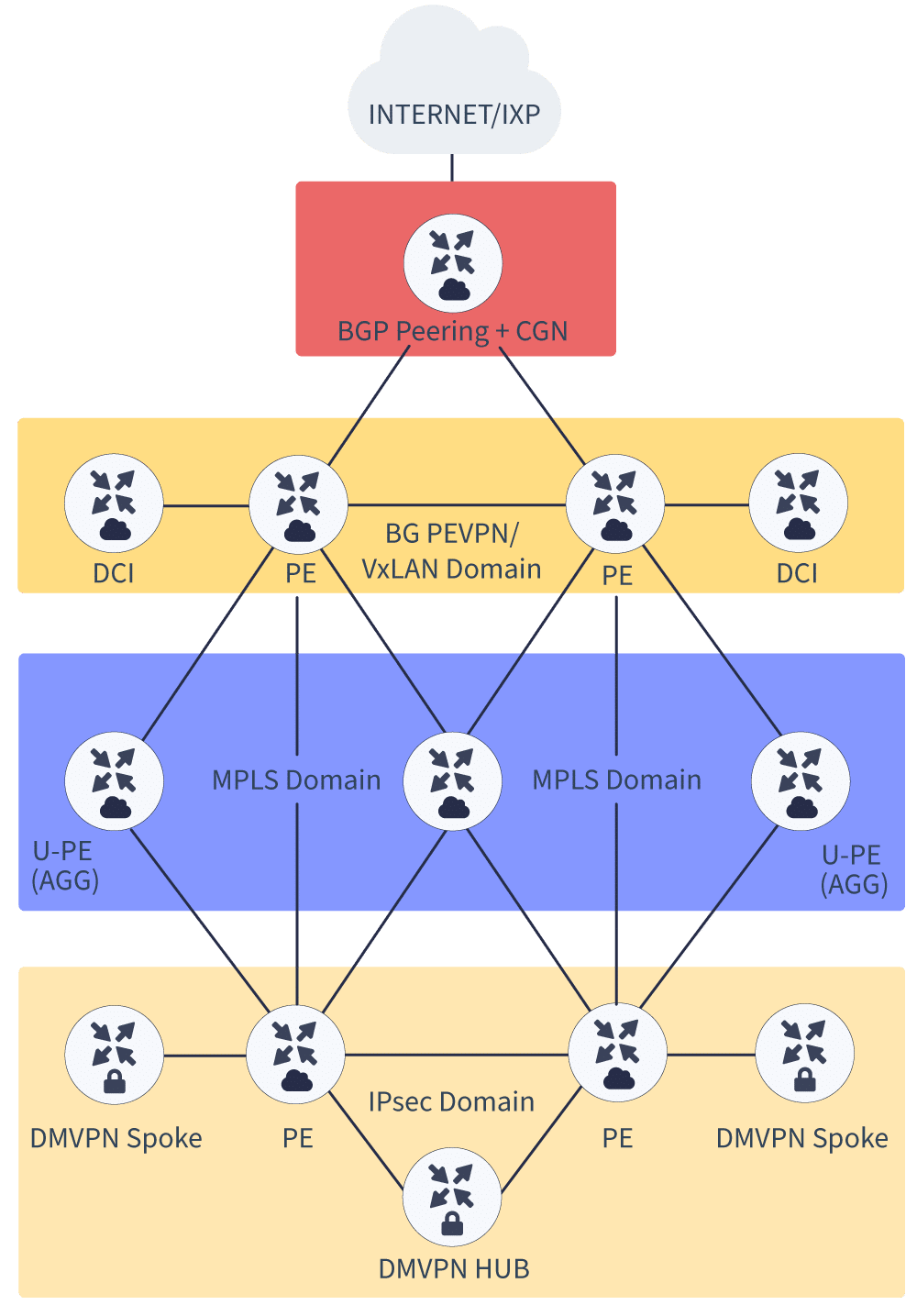 And all of that can be configured on a single 1RU server with connectivity from 1Gbps to 100Gbps ports.
Conclusion
To conclude, you can start your white-box networking journey with 6WIND Virtual Border Router and free yourself up from vendor lock-in. 
With 6WIND Virtual Border Router software running on Commercial Off-the-shelf hardware you can achieve higher performance and scalability compared to traditional networking solutions on the market while keeping your costs low.
Contact us to start your journey!