6WIND vRouter: The VPN Concentrator for Service Providers
VPN Concentrators are networking devices in router form factors that provide secure VPN connections and delivery of traffic between VPN nodes. Service Providers deploy VPN Concentrators specifically to create and manage secure VPN infrastructure to provide services for customers.
Proprietary hardware routers were historically required to solve high performance IPsec VPN challenges such as VPN aggregation and concentration with well-known downsides including vendor lock-in and very high equipment costs. There is a market need for cost-effective alternatives to avoid a cost versus security trade-off. 6WIND solves this challenge with vRouter software.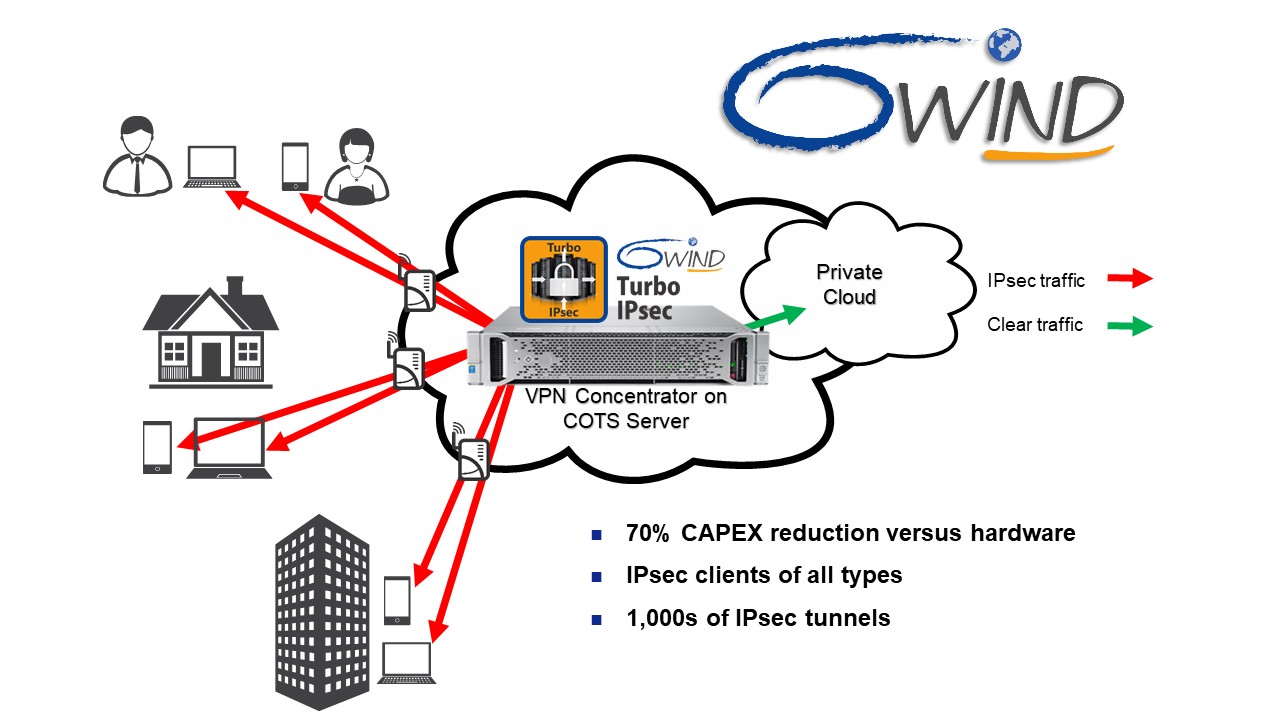 AT&T is the largest Tier 1 service provider in the US and uses 6WIND's vRouter as a VPN Concentrator for its Enterprise VPN Service called vVIG or virtual VPN Internet Gateway. 6WIND Turbo IPsec vRouter is used to aggregate the IPsec traffic from enterprise users. As a result of using 6WIND Turbo IPsec vRouter on a commercial-off-the-shelf (COTS) server, AT&T was able to reduce CAPEX by 70%, support IPsec clients of all types, and manage thousands of IPsec tunnels.
6WIND VPN Concentrator vRouter Benefits:
Software-based IPsec VPN product, ready to run in bare metal and virtual machine configurations on commercial-off-the-shelf (COTS) servers
18 Gbps IPsec performance per processor core, scalable
CLI and NETCONF/YANG-based management engine for integration with orchestrators and existing management frameworks
Monitoring through YANG-based Key Performance Indicators (KPIs) that can be exported to a Time-Series Database and analytics dashboard
Contact Us Today to View a Live Demo on the Following:
Performance: 10,000 tunnels sustaining 10 Gbps in both directions
Features: VRRP provides a single IPsec endpoint in both directions and IKE High Availability is configured for seamless failovers
Management: NETCONF/YANG management engine allows monitoring of VPN Concentrators with secure traffic
Monitoring: YANG-based KPIs integrated with the InfluxDB Time-Series Database and the Grafana analytics dashboard
Additional Resources
Webinar Replay: VPN Concentrator vRouter