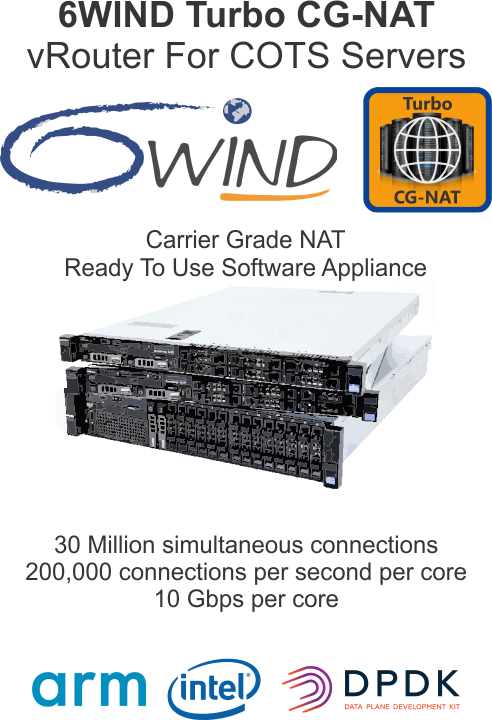 Carrier Grade NAT vRouter Software Appliance
6WIND Turbo CG-NAT is a high performance, ready-to-use vRouter software network appliance, to be deployed in bare metal environments or as a virtual machine. With 10 Gbps per core of performance, 6WIND Turbo CG-NAT provides the performance of hardware networking equipment with the ease of deployment and flexibility of software.
Carrier Grade NAT (CG-NAT), also known as Large Scale NAT, (LSN) shares an outside IP address among multiple inside local (private) IP addresses. 6WIND's Turbo CG-NAT brings additional features to 6WIND's vRouter family for the ability to use a pool of public IP addresses instead of one, limit resource usage per user and add transparent translation schemes.
Benefits
Ready to use CG-NAT vRouter solution
Performance of hardware networking solutions on Commercial-Off-The-Shelf (COTS) servers
Choice of bare metal and virtual machine deployments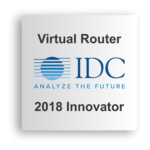 Key Features
Scalable CG-NAT software performance:

30 Million simultaneous connections per 32G of RAM (scales with memory)
200,000 connections per second per core (scales with the number of cores)
10 Gbps per core (scales with the number of cores)
CLI and NETCONF/YANG-based management engine for integration with orchestrators and existing management frameworks
Monitoring through YANG-based KPIs that can be exported to a Time-Series Database and analytics dashboard
Advanced logging through syslog can be integrated with logging platforms
Complete set of features including L2, encapsulations, IPv4 and IPv6 routing, virtual routing, firewall, NAT, QoS, High Availability and more
6WIND offers traditional CLI and IT style management based on YANG data models.
---
6WIND Turbo CG-NAT Solutions

---
6WIND Turbo CG-NAT Resources
Blog with Intel: Carrier Grade NAT vRouter for White Box Servers
Turbo CG-NAT vRouter Webinar And Demo
6WIND Turbo CG-NAT Deployment Guide