Time for paradigm shift in networking?
According to a recent Heavy Reading survey, cloud service providers strain telecom operators' IP networks in terms of scale and agility. This is primarily due to the ever-increasing traffic load generated by a growing set of over-the-top (OTT) services, for which network operators often provide the access and underlying transport layer. According to the survey, many telecom operators now believe that the optimal way to address the capacity scaling demands of the cloud is to adopt the tools, technologies, and processes of the cloud providers themselves. If you can't beat them, join them!
Merits of Disaggregation & Network Function Virtualization
Two cloud concepts that can be applied to networking are disaggregation of monolithic networking appliances and the virtualization of networking functions (NFV). The former includes the decoupling of the networking hardware from the software and the latter entails the virtualization of networking functions, like routing, into purely software-defined networking functions, which in effect constitutes the backbone of software-defined networking (SDN).
The disaggregated hardware can then be cast as either general-purpose commercial off-the-shelf servers (COTS), typically based upon x86 or ARM processor architectures, or as more specialized white boxes as defined by open-source initiatives like the Telecom Infra Project (TIP). This approach ends the hardware vendor lock-in and thus opens up the possibility for a more varied supplier landscape, plus the selection of the optimal HW and SW components that are best suited for the task.
Cost Reduction is King
The aforementioned operator survey, where 56% of the respondents represent Tier-1 or Tier-2 operators, identified the main drivers for architectural changes in operator's networks. The top-6 drivers for change are listed here: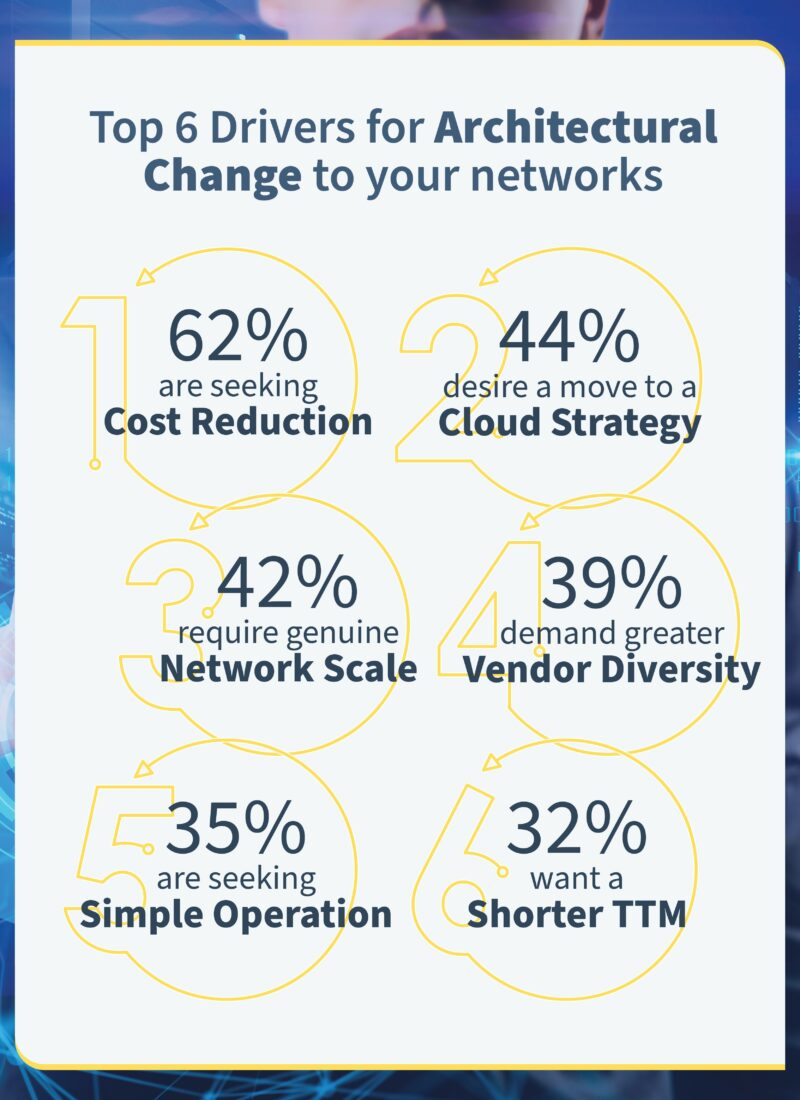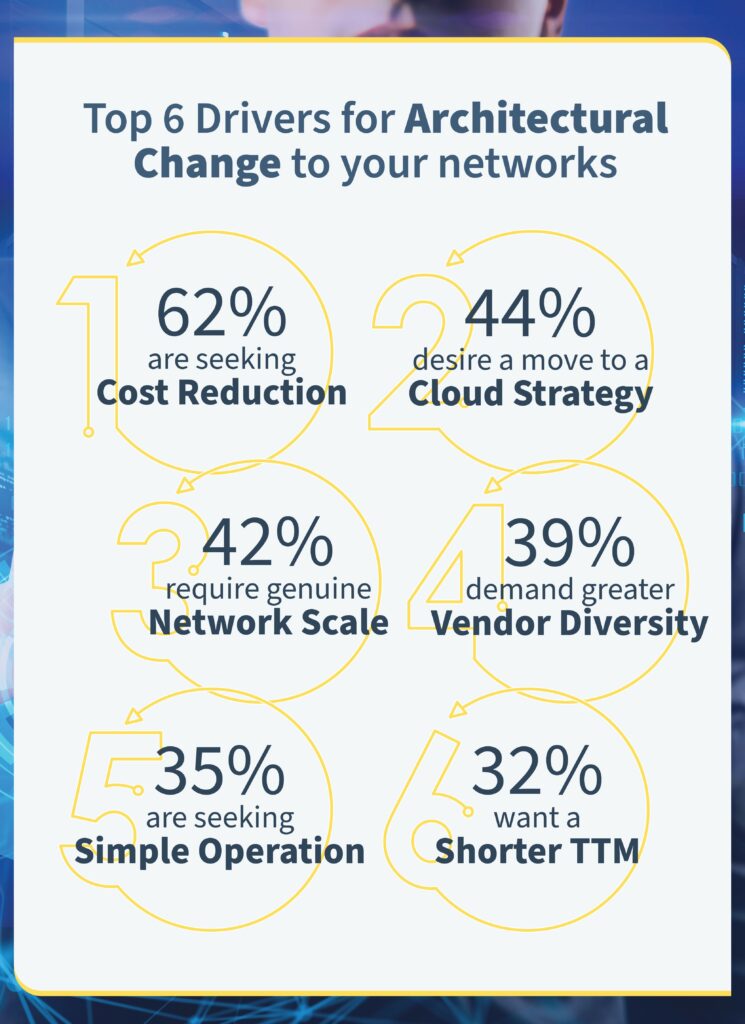 Figure 1: Top 6 drivers for architectural change in operator's networks
Not surprisingly, lowering the network costs is the clear number one driver. While the operator network get flooded by a mounting deluge of data, monthly average revenue per user (ARPU) is typically in decline or – best case – increasing slightly. Hence the cost per bit per second must go down, and big time, to keep network operations sustainable. That can only be achieved by simultaneously addressing both the network capital expenditure (CAPEX) and the network operational expenditure (OPEX) that jointly constitute the network total cost of ownership (TCO).
Virtualization & HW / SW Disaggregation = the Enablers of Change
It is evident that hardware-software disaggregation enables operators to source more (COTS servers) or less (white boxes) generic and mass-produced hardware from a wide(r) spectrum of HW suppliers, thereby leveraging economies of scale. This definitely pares down hardware cost and, as a bonus, reduces the supply-chain and vendor lock-in risks associated with single-sourcing purpose-built networking appliances. Disaggregation thus simultaneously addresses the first and fourth points in Figure 1. 
NFV in turn enables operators to select the virtual networking functions from a broad array of networking software vendors, and tune their software choice to achieve the best price-performance ratio, reduce time-to-market and – if orchestrated properly – reduce operational complexity and thus OPEX. This positions NFV as the path for clearly addressing cost reduction, vendor lock-in, time-to-market acceleration and potentially the simplifying of operational complexity drivers of architectural change.
We can take the networking revolution at least one step further, by applying the Cloud Native approach to virtualization, and deploy software-based networking solutions in a private, public or hybrid cloud. This addresses the challenge of (hyper)scalability and migration towards a cloud strategy in a single shot. The Cloud Native approach enables rapid, easy and even dynamic (through automation), demand-based, horizontal (cross-instance) scaling, in addition to the vertical scaling through optimization of single-instance performance. A public-cloud-based solution can also eliminate all of the hardware-related CAPEX, procurement and operational complexity and replace it by an OPEX-centric network as a service (NaaS) model.
Conclusions
Network operators, in order to optimize their benefits and enhance their competitiveness, are under relentless pressure to reduce the cost per bit per second of traffic that they deliver to their customers. To address their TCO, scalability and other challenges, they believe a fundamental change in the way that they build their access and transport networks is needed. That new paradigm involves backing off from purpose-built, hardware-centric and monolithic networking appliances to disaggregated and virtualized networking functions based upon ubiquitous, general-purpose, industry-standard platforms and leveraging the cloud paradigm.
This novel approach is exactly the approach that 6WIND, a leading virtual service router vendor, has been pursuing since 2014. In case you want to learn more about the subject, do feel free to contact us for more information. You can also schedule a free trial of our VSR solutions.