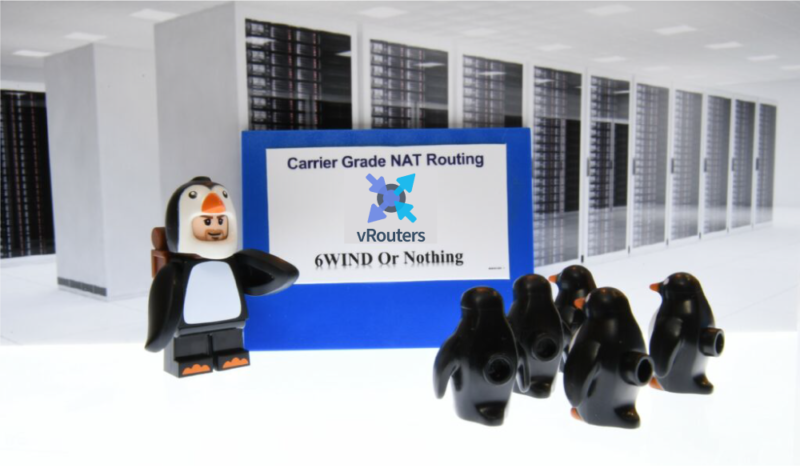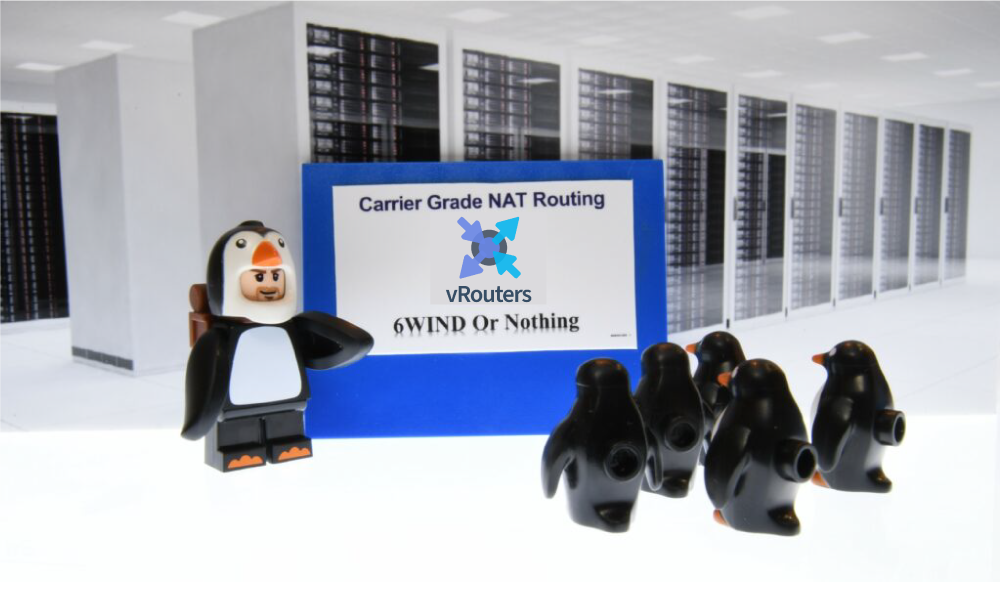 Carrier Grade NAT (CG-NAT), also known as Large Scale NAT (LSN), helps ISPs with IPv4 resource conservation by sharing an outside IP address among multiple inside, local (private) IP addresses. Benefits include the ability to use a pool of public IP addresses instead of one and the ability to limit resource usage per user, in addition to transparent translation schemes.
Thanks to innovations in networking software on Intel® architecture, customers can now run CG-NAT functionality in Virtual Border Router (vRouter) solutions on white box servers and inside virtual machines as an alternative to expensive hardware.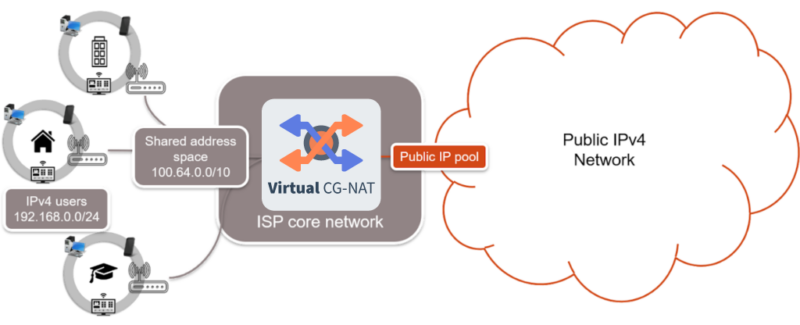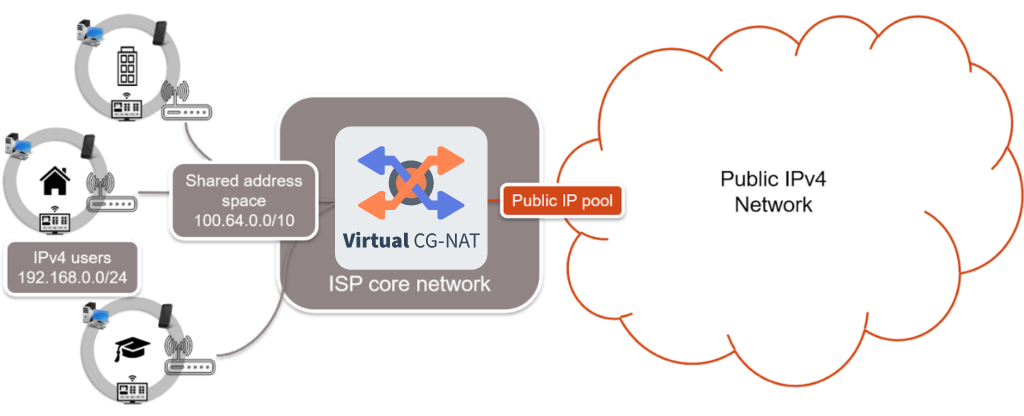 6WIND Virtual CG-NAT vRouters, Based on Intel architecture, Give ISPs a Software Alternative
6WIND's Virtual CG-NAT is the industry's high performance software alternative, giving ISPs the power to run CG-NAT solutions on Intel-based servers in vRouters instead of hardware routers. This includes NAT44, NAT64, port assignment, IP pool management, compact logging, ALG support, hairpinning, mapping, filtering and more.
6WIND Virtual CG-NAT Performance
Here you can see our benchmarks on dual Intel® Xeon® Platinum 8170 processors. We deliver 30 million simultaneous connections per 32G of RAM, 200,000 connections per second per core and 10 Gbps per core. 6WIND software scales linearly with the number of cores. If you need more performance, simply add more cores to the configuration.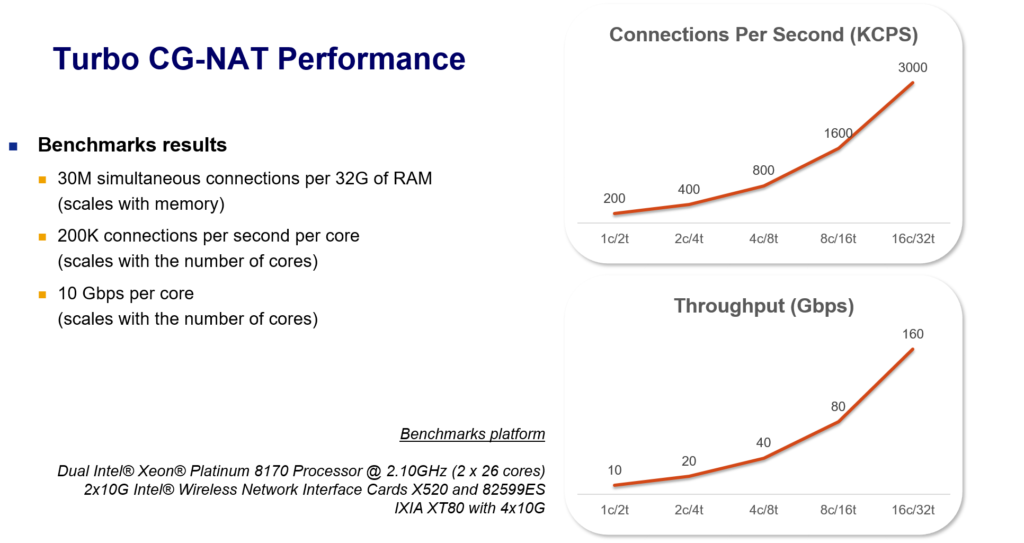 NETCONF/YANG for Open Management
6WIND Virtual CG-NAT vRouter's management is based on NETCONF and YANG and the CLI is a NETCONF client. This allows for integration with third-party management frameworks and offers APIs for an automated, programmatic configuration of the vRouter.
6WIND Virtual CG-NAT supports monitoring through the CLI or NETCONF, in order to dump CG-NAT statistics, including high level counters, allocation errors, and per pool and per rule counters to optimize the CG-NAT configuration according to the user traffic. The goal is to minimize the number of public IP addresses used, while maximizing the number of ports available to users.
YANG-based KPIs for Telemetry
In addition to granular monitoring, YANG-based Key Performance Indicators (KPIs) are provided for streaming to a time-series database. The vRouter tracks statistics against time and therefore has a thorough understanding of the system dynamics to better optimize the configuration. The time-series information can be displayed in a graphical analytics framework such as InfluxDB/Grafana. The same APIs can be used for integration with other frameworks, such as Elastic Stack, Prometheus and more.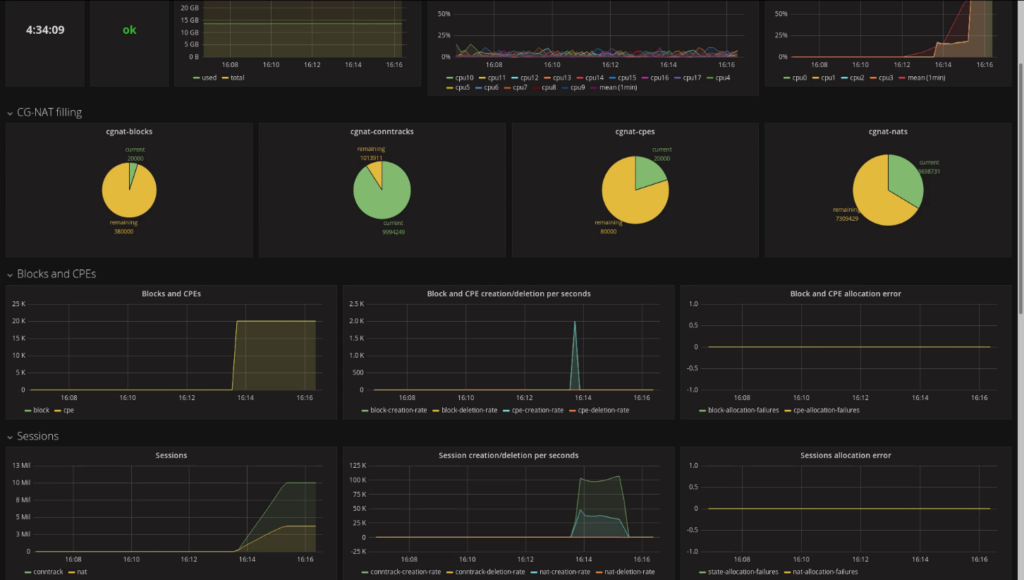 CG-NAT Events Logging Supports Legal Requirements
It is a legal requirement for an ISP to be able to provide the mapping between a user and a public IP address at a given point in time. When millions of connections are involved, it is useless to try to log them one by one. 6WIND's Virtual CG-NAT vRouter comes with a compact log feature that consists in logging allocation of blocks. The logs can be retrieved into a logging framework such as Elastic's Logstash, to parse them and be able to perform efficient searches. Here is an example of integration with Elastic Search.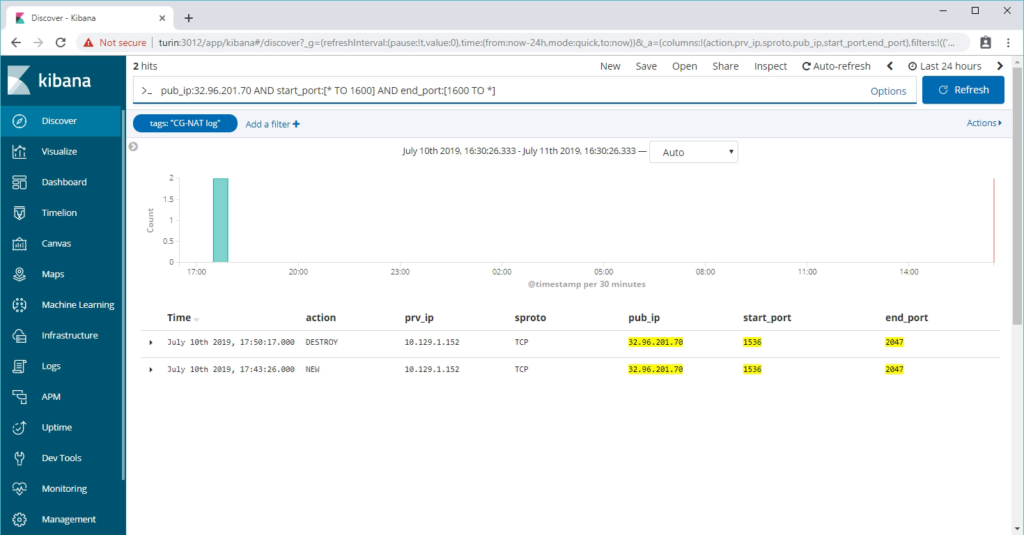 High Performance CG-NAT vRouter Demo based on Intel technology
Contact 6WIND today to receive a CG-NAT vRouter demonstration. Based on an Intel platform, we configured an IXIA to reach 10 million connections and maximize the number of connections per second, using a minimum HTTP page size of 1 byte. The IXIA starts by establishing connections at a fixed rate, and then opens and closes connections continuously while transferring traffic to reach 370,000 connections per second using only two processor cores. Using 32 kilo-byte pages for throughput testing, we measure 20 Gbps with the same two processor configuration.
You will see the power and flexibility of our software-based Carrier Grade NAT solution as an alternative to hardware.
Our evaluation program is now open for users who would like to test drive a CG-NAT vRouter on Intel architecture. We look forward to hearing from you.
---
Yann Rapaport is Vice President Of Product Management for 6WIND.