Overcoming Key CSP/MNO Challenges
In 2023 we are in quite a different landscape than in previous years. We are still recovering from a global event that affected the supply chain in almost every industry. This event has shifted the way some companies operate their businesses. It has provided insight into what preventative measures need to be taken in order to be successful during the next global event.
Specifically, when we talk about CSP's and MNO's, they are now asking how they can be prepared for the next disruptive event. These past events have caused operators to rethink many aspects of business. It has caused them to rethink their strategies when it comes to network endurance and securing their revenue growth.
More of a priority is being placed on power consumption practices, green initiatives, and being able to be digitally agile. But this new way of thinking comes with its own challenges. The challenge of moving investments and resources away from legacy technologies and adapting a new way to deploy, manage and deliver services. Specifically, moving away from being hardware dependent and becoming fixed-virtually efficient and able to adapt operations to a different model.
In this blog, we look at what challenges CSPs and MNOs are facing and how the 6WIND VSR product suite has assisted in overcoming these challenges. First, we will identify the top challenges that we gathered speaking to CTOs, CIOs of leading Tier 1 CSPs and MNOs we met at recent events. Then, we will share insights on how we were able to overcome these challenges by providing real world use cases and factual data.
So, the key challenges that were shared with us are:
Cost Reduction
Sustainability
Move to Software
Performance, Scalability, Flexibility, Automation
Seamless Migration to Disaggregation
Minimal Operational Disruption
Overcoming these challenges are 6WIND's unique selling points. Please see our interview with our own Julien Dahan on 6WIND TV as he discusses these challenges. Julien Dahan,CEO talks about the CSPs challenges and solutions 6WIND provides on TelecomTV – 6WIND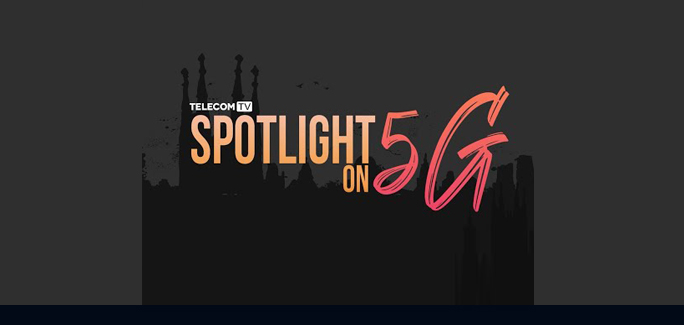 Cost Reduction
Make no mistake, cost reduction is almost always going to top the list when it comes to challenges in future proofing, upgrading, deploying, and maintaining new technology. Virtual Networking is the virtualization of many different components of what makes a network infrastructure. Provider costs are drastically reduced when replacing hardware routing solutions with virtualized software routing solutions.
At 6WIND we help our customers to benefit from Cost Reduction through network softwarization. We provide them the ability to maneuver through different deployment types; bare metal, virtualized and containerized, by utilizing the same software and license while accelerating TTM and lowering TCO.
Through our software solutions, customers see a significant amount of savings, from cost savings by not having to purchase expensive specific hardware (which must be upgraded every few years), to operational savings by leveraging automation with service-defined networking and reducing power and cooling costs with higher solutions efficiency.
For example, a Border Router built with 6WIND Virtual Border Router software and a COTS Hardware provides the lowest TCO in the market.
As a reference case, a 6WIND vCGNAT solution was provided to Lit Communities, as a replacement of a legacy expensive non-redundant monolithic CGNAT hardware appliance handling a maximum of 30M translations. The 6WIND software based vCGNAT solution is delivering higher throughput, higher translation capabilities (100M+), high availability in a disaggregated model and at a fraction of the cost.
For this project, our partner RocNet Network Supply was enlisted to provide a full turnkey CGNAT solution based on 6WIND software and DELL COTS servers. The virtualized design involved 4 DELL XR12 to run a pair of vCGNAT and vBR as shown below:
Another reference case is the virtualized security gateway solution provided to Orange International Networks, Infrastructures, and services (OINIS) to accelerate their virtualization journey and reduce operational costs. Hear Khaoula Slaoui, VP IT Technology & Strategy at Orange International Network, explain how they evolved their legacy infrastructure involving a hardware appliance dependency for each customer service (1:1) to a virtualized infrastructure leveraging the performance and optimization of the 6WIND Virtualized Service Router solutions to improve deployed services by aggregating them on a single instance and eliminating the need for additional hardware.
Sustainability
Cost reduction will also be a natural outcome in lowering power consumption, but so will sustainability. Scaling down on hardware equals energy savings. Delivering more throughput with less power, is one of 6WIND's major competitive advantage. In different field use cases, power consumption can be reduced by more than 50% compared to other legacy solutions. With 6WIND VSR high performance software solutions, we optimize consumption; the network consumes only what is needed.
We have recently worked with VMware Telco cloud and in this example, if they were to move all workload to other places with sustainable energy they would be saving 50% of the carbon footprint. Just listen to what the CTO Lorcan Burke of VMware shared with us in a recent interview on the topic:
Below you can see how our VSR Software Solutions can conserve energy by consuming less than 50% power when compared to other such solutions in the market:


Figure 2: 6WIND VSR Performances
Move to software
This industry is constantly evolving with new technologies and trends. Many companies are currently shifting or looking for a way to shift to a disaggregated model, and we know this does not occur overnight. They need to stay up to date with the latest technology to remain competitive and offer the best high-quality service possible.
Providers must continually invest in and maintain their infrastructure to ensure it can handle increasing data traffic and support new technologies. They also want to avoid the costly vendor lock-in scenario, reduce power consumption, and move away from proprietary hardware dependency.
For decades, service providers were at the mercy of limited large network vendor equipment suppliers' schedule and pricing. This is where we offer value – we offer a clear, smooth transition from a hardware architecture to a disaggregated model with minimal operational disruption.
6WIND VSR allows for the creation of virtualized network functions, enabling much greater flexibility in the deployment and management of networking resources. VNFs decouple software from the underlying hardware. This allows customers to consolidate hundreds of virtual network functions into a single box.
The clear benefit of this is to avoid using custom hardware devices for each network function. You no longer need a specific type of hardware to handle a specific network function.
Performance, Scalability, Flexibility, Automation
Now one of the most important questions to be asked is how does software perform and scale against a hardware model. We are in a different environment now than we were when virtualization first emerged in the market. We can outperform some of the big-name vendors currently on the market while giving them the flexibility to choose which platform (Physical, Virtual or Containerized) to deploy on.
Having this flexibility allows customers to take control of how and when they can go to market, and it gives them control on when and how to deploy new services. New features and services can be introduced more quickly, allowing organizations to stay ahead of the competition and respond more quickly to changing market demands. And the market also demands performance.
6WIND VSR can deliver high routing, IPsec and NATing capabilities. For instance, with no specific hardware acceleration, on a COTS server (Dell, HP, Super Micro, Advantech, Lanner, etc.), a single virtual CPU core can achieve 46 Gbps of routing and about 9 Gbps of IPsec, using an internet mixed traffic profile iMIX 350 Bytes.
With our vSecGW, we recently tested our virtualized security gateway product with Intel to demonstrate our ability to process 400Gbps iMIX encrypted data streams. This was achieved using Intel's 3rd Gen Xeon scalable processors and Intel Ethernet 800 Series Network adapters. With our vSecGW, service providers and network operators can replace legacy physical security gateways with a virtual one running on COTS servers in hybrid environments. We are continuously building benchmark numbers leveraging the latest CPUs from our partners. This was documented with Intel and white paper can be found below.
6WIND Demonstrates 400GbE Virtual Security Gateway Throughput (intel.com)
We can look at one of newer customers CarrierX who offers a web based conferencing platform that offers free conference calls, screen sharing and video conferencing services around the world. Their current equipment, a Cisco CSR1Kv reached its EoS and a new solution was needed. Furthermore, they needed to improve flexibility and throughput to their current multi-cloud network environment that is using multi-vendor routers for VPN gateway services. We proposed our vSECGW product which supports all the routing capabilities, IPSEC support and DMVPN feature.
6WIND's solution met the customer requirements and was deployed as a branch VPN router on multiple physical POPs and cloud based deployments. The simplicity and flexibility of our licensing model made cost planning an easy process. CarrierX was able to achieve higher bandwidth which increased the amount of SIP calls, and all traffic is now encrypted. As a result the customer is looking to replace the rest of the multi vendor routers and deploying the solution on VMware and the public cloud. For more info, please read the CarrierX Success Story.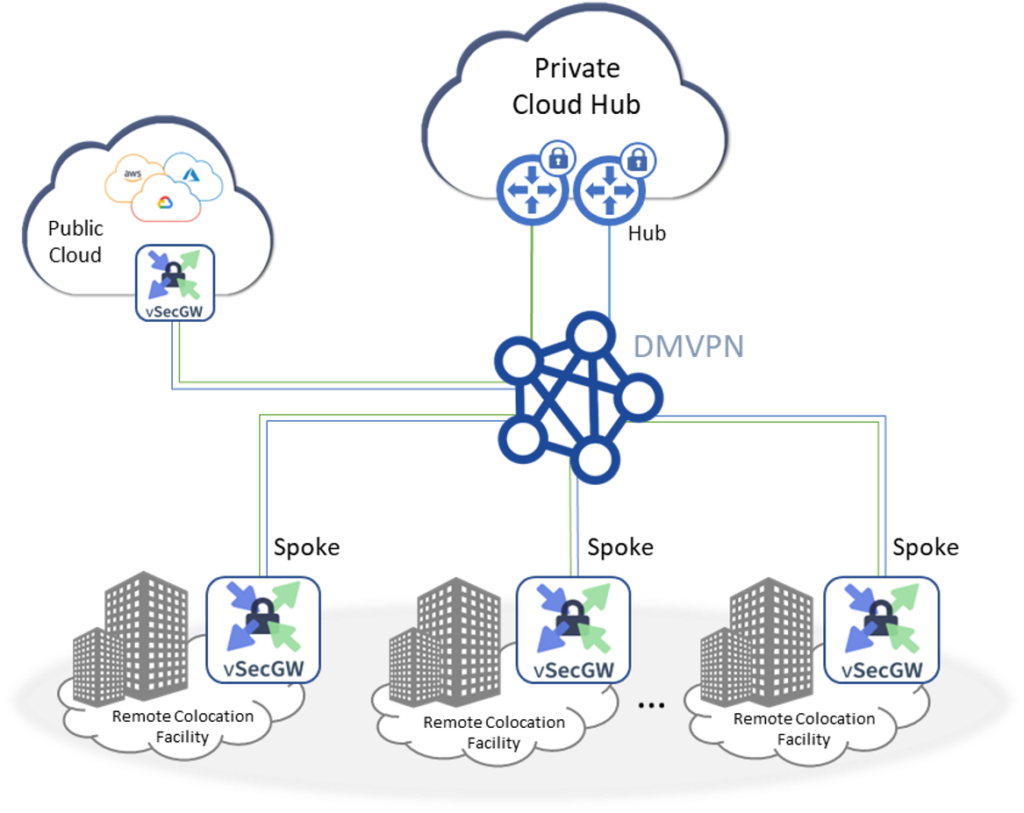 Figure 3: 6WIND vSecGW deployed as VPN Spokes in Private Colocation facilities and in Public Clouds
Seamless Migration to Disaggregation
6WIND provides a seamless migration which allows providers to migrate from traditional, monolithic networking components to a more flexible disaggregated (separation of hardware and software) architecture.
One of the first things we will do is to assess the existing network infrastructure to evaluate which components can be disaggregated. We then identify those components (switches, routers, software, OS, MANO) that will be used in the new infrastructure. We then design (and ensure it meets performance, scaling and security requirements), implement (may involve some reconfiguration on existing equipment, installing new hardware/software and testing) and optimize performance to ensure it meets the organization's performance requirements.
With 6WIND's high performance VSR software solutions, we give our customers the freedom to choose when and how they will deliver future services. Our flexible deployment strategy gives CSPs and MNOs the option to choose the deployment platform. If the need is to move away from a vendor-based appliance we can support that migration into a COTS or virtual environment. If needed we can support containerized and cloudified architectures as well. This is achievable with our transferable license model, all while utilizing the same software.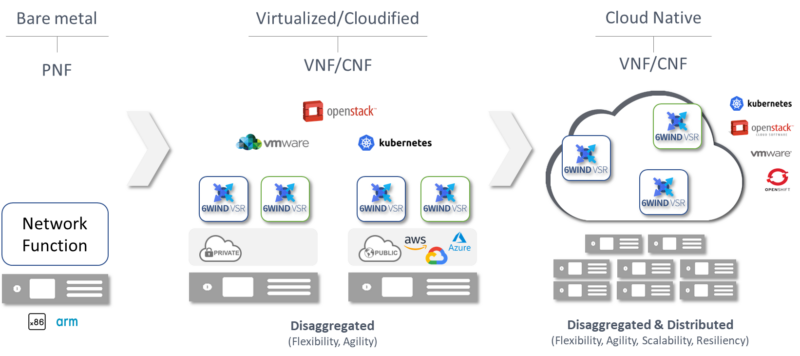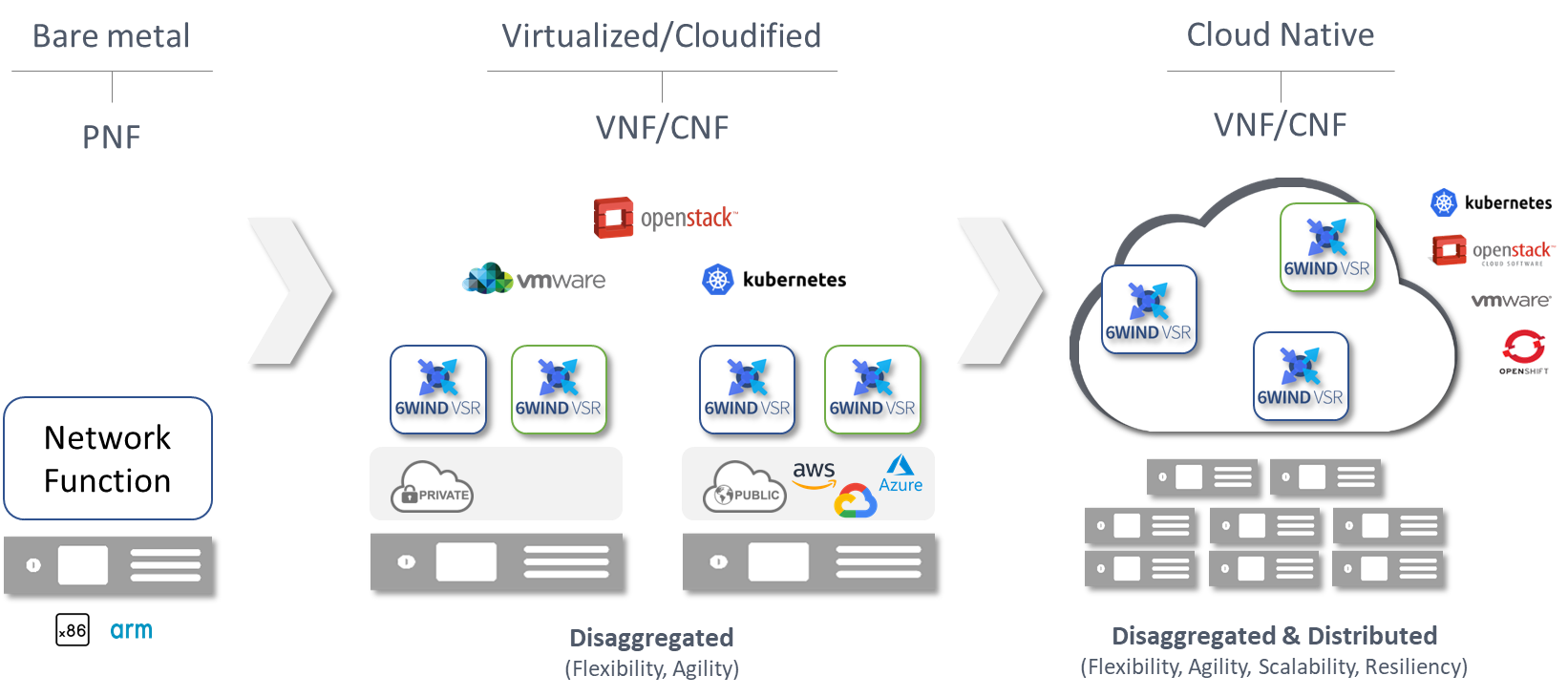 Figure 4: 6WIND Flexible Deployment Model
Minimal Operational Disruption
By following the process outlined above, organizations can migrate to a disaggregated network in a seamless manner, with minimal operational disruption. We recently completed a deployment of our vSecGW with a German Telecommunications company called Witcom. We needed to provide a high performance, end to end security solution for their virtual routers. New services needed to be added dynamically without changing the existing hardware. The deployed solution can be seen below and the provided link will provide details how we achieved the ease of a staggered implementation process working closely with partners within our eco-system. Our solution is deployed on a central hub site as well as remote spoke sites.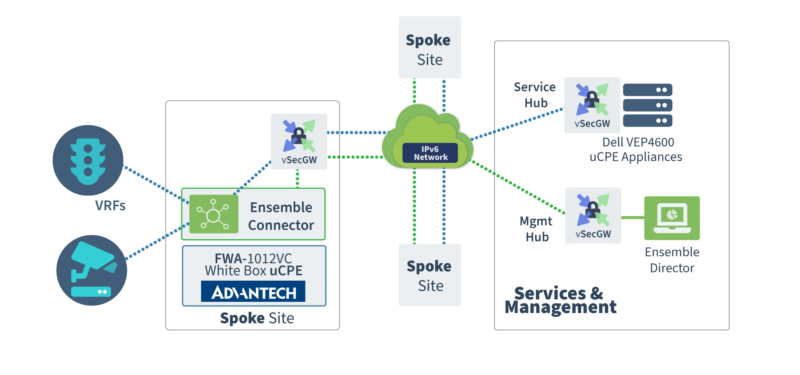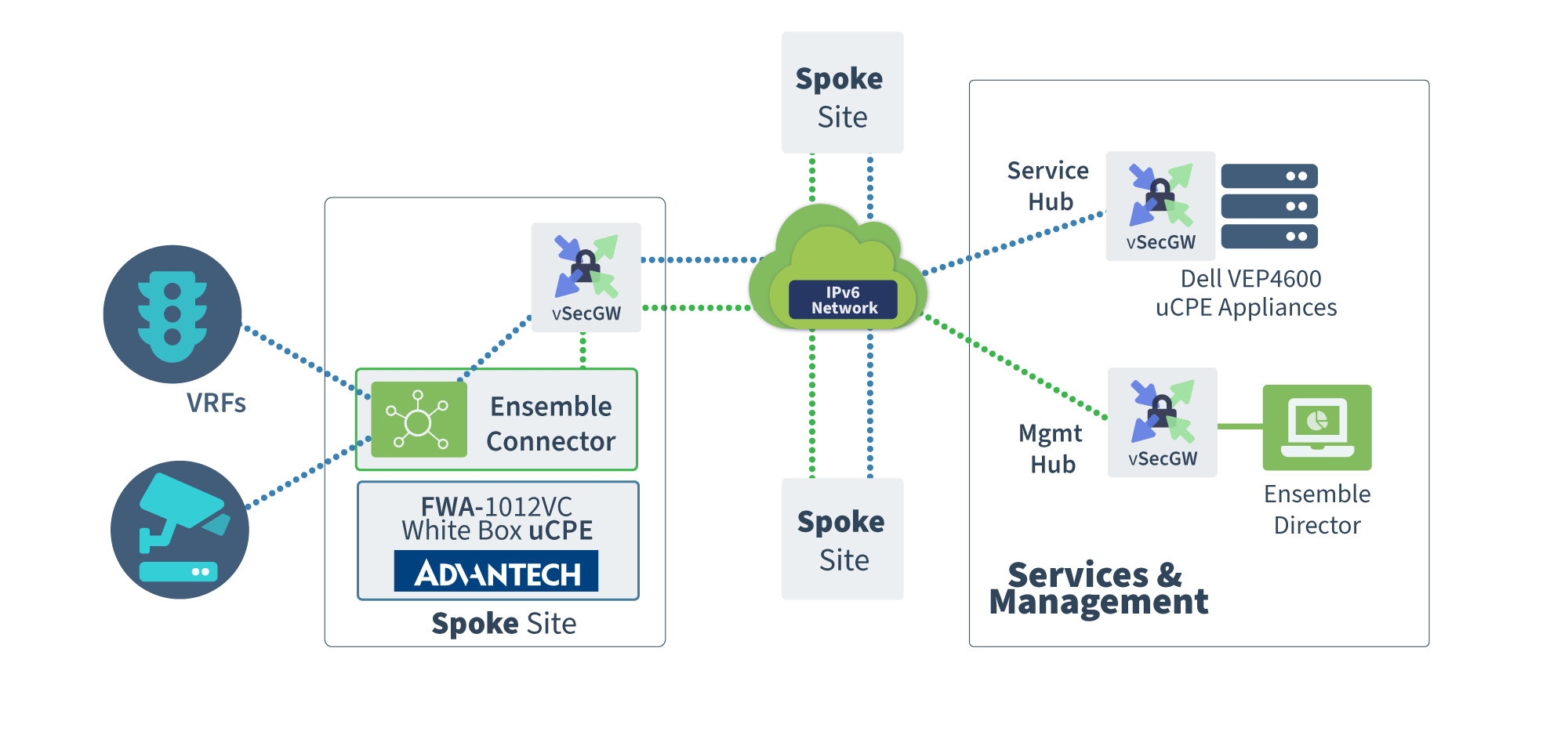 Figure 5: 6WIND Virtual Security Gateway deployed on a central hub site as well as remote spoke sites
"We took an innovative approach for an open multi-vendor solution to power our smart city initiative working with 6WIND, ADVA, Advantech, Dell and dacoso," said Volker Bodenbach, head of technology and operations, WiTCOM. "Together we designed a secure open platform that powers edge cloud for IoT, video and next-generation services across our IPv6 network that can further be deployed worldwide across many verticals."
WiTCOM deploys ADVA's NFV hosting platform and 6WIND vRouter in open public IoT network
In conclusion, the challenges highlighted above are among the key concerns raised by our clients, who are prominent CSPs and MNOs. It is evident that the shift towards virtualization presents a compelling solution to these challenges. Adopting software-based approaches can not only enhance network monetization but also lead to an improved sustainability and the delivery of superior customer experiences.
You can visit our website www.6wind.com to learn more about our products, solutions, use cases and success stories. We offer free evaluations of our 6WIND VSR products so you can witness the value you can bring to your network.