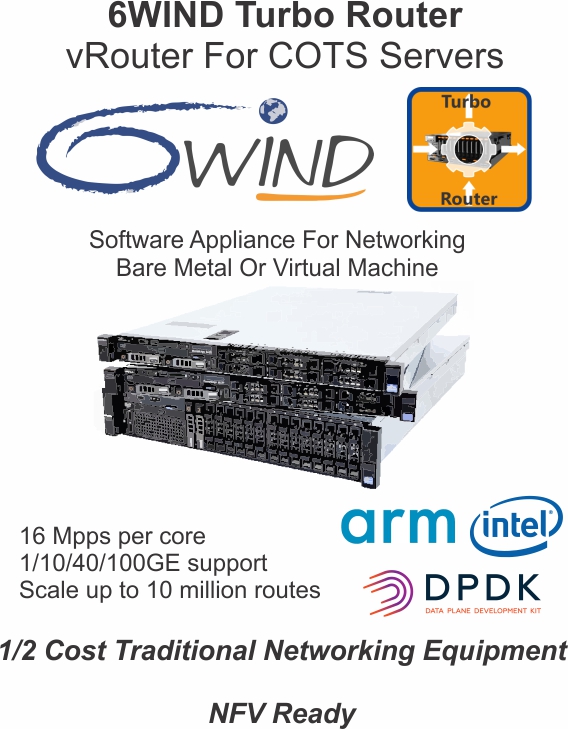 vRouter Software Appliance Router
6WIND Turbo Router™ is a high performance, ready-to-use vRouter software network appliance, to be deployed in bare metal environments or as a virtual machine. With 16 million packets per second per core of IP forwarding performance, 6WIND Turbo Router provides the performance of hardware networking equipment with the ease of deployment and flexibility of software.
Benefits
Ready to use routing and firewall vRouter solution
Performance of hardware networking solutions on Commercial-Off-The-Shelf (COTS) servers
Ready for bare metal and NFV / Data Center Virtualization deployments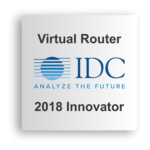 Key Features
Complete set of features including L2, encapsulations, IPv4 and IPv6 routing, virtual routing, firewall, NAT, QoS, High Availability and more.
Support for x86 and Arm servers
High performance I/Os leveraging DPDK, with multi vendor NIC support from Cisco, Intel and Mellanox
High performance, fully featured data plane networking
High performance control plane
Bare metal or virtual machine deployment
6WIND offers traditional CLI and IT style management based on YANG data models.
---
6WIND Turbo Router Solutions
---
6WIND Turbo Router Resources
6WIND Turbo Appliances Performance Report By SDxCentral
End To End Service Instantiation With Open Source Management White Paper
Brocade vRouter Replacement Program
Technical Blogs