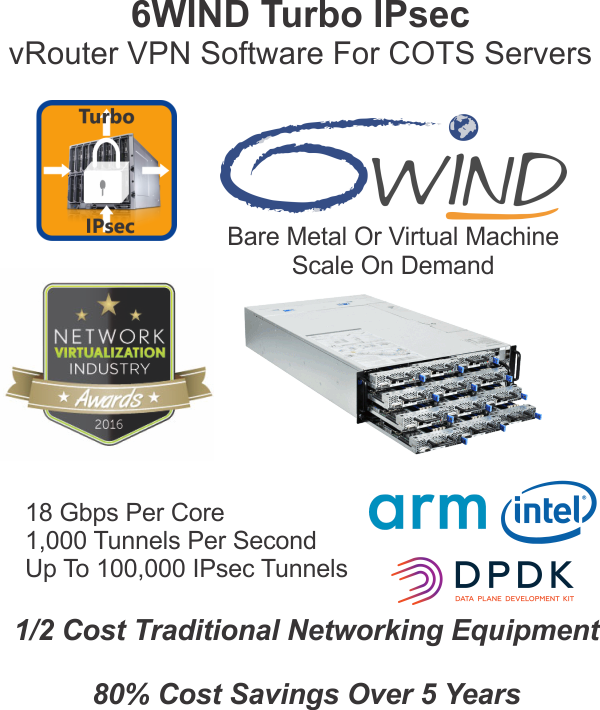 vRouter IPsec VPN Software Appliance
6WIND Turbo IPsec™ is a high-performance, ready-to-use vRouter software network appliance, to be deployed in bare metal environments or as a virtual machine. With 18 Gbps per core of security performance, 6WIND Turbo IPsec provides the performance of hardware networking equipment with the ease of deployment and flexibility of software.
6WIND Turbo IPsec delivers industry-leading IPsec price/performance ratios when comparing one 2 rack unit (RU) x86 server to a competing 2RU hardware appliance. This comparison also applies to two 4RU x86 servers versus a competing 16RU system. In both cases, 6WIND Turbo IPsec on x86 servers has over 50% less cost per Gbps of encrypted IPsec traffic.
Benefits
Ready to use vRouter IPsec VPN solution
Performance of hardware networking solutions on Commercial-Off-The-Shelf (COTS) servers
Ready for bare metal and NFV / Data Center Virtualization deployment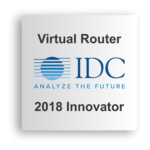 Key Features
Complete set of features including IPsec VPN, L2, encapsulations, IPv4 and IPv6 routing, virtual routing, firewall, NAT, QoS, High Availability and more.
Support for x86 and Arm servers
High performance I/Os leveraging DPDK, with multi-vendor NIC support from Cisco, Intel and Mellanox
High performance, fully-featured data plane networking
High performance control plane
Bare metal and virtual environment deployment
6WIND offers traditional CLI and IT style management based on YANG data models.
---
6WIND Turbo IPsec Solutions
---
6WIND Turbo IPsec Resources
Turbo IPsec Demo Video on YouTube
6WIND Turbo Appliances Performance Report By SDxCentral
Server Based IPsec For Cloud and Telecom White Paper By Light Reading
Intel Xeon IPsec Performance Solution Brief
Brocade vRouter Replacement Program
Technical Blogs