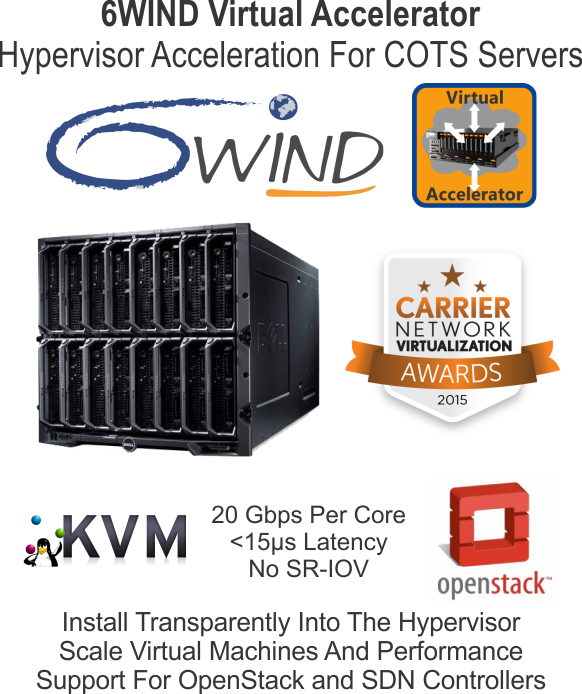 Unlimited Hypervisor Scaling
6WIND Virtual Accelerator™ provides packet processing acceleration for virtual networking infrastructures used in Network Function Virtualization (NFV), Data Center Virtualization or Network Appliance Virtualization use cases. With 20 Gbps throughput per core, 6WIND Virtual Accelerator is a high performance, low latency software solution to build carrier-grade NFV Infrastructure based on open architectures.
6WIND Virtual Accelerator software solves common hypervisor bottleneck problems that limit the adoption of NFV, data center virtualization and network appliance virtualization on Commercial-off-the-Shelf (COTS) servers. It is installed on the KVM hypervisor to provide accelerated virtual switching and networking features to offer an alternative to SR-IOV or PCI passthrough that break virtualization. With 6WIND Virtual Accelerator, Network Operators can cost-effectively transition from legacy hardware to software-based applications leveraging OpenStack networking.
Benefits
Increase VM and VNF performance without SR-IOV or any changes to the applications
Multiple VM density on COTS servers
Mirantis Fuel Plugin and Canonical Juju Charm for quick installation
Features
Mature solution for high performance I/O leveraging DPDK, with multi-vendor NIC support
Accelerated virtual switching (Open vSwitch and Linux bridge) and networking (Overlays, Filtering/NAT, IP, Forwarding, IPsec) using the fastest packet processing algorithms
Preserves standard Linux commands (tcpdump, iptables, IPsec/XFRM, etc.) for ease of deployment and operation
Supports standard network management tools
Supports existing workloads through standard Virtio drivers
Scalable software-based switching enables Service Chaining
---
6WIND Virtual Accelerator Solutions
---
6WIND Virtual Accelerator Resources
6WIND Virtual Accelerator Data Sheet Download Here
Mirantis Fuel Plugin For OpenStack Networking on YouTube
Canonical Juju Charm For OpenStack Networking on YouTube
Hardware vs. Software Switching White Paper By 6WIND Download Here