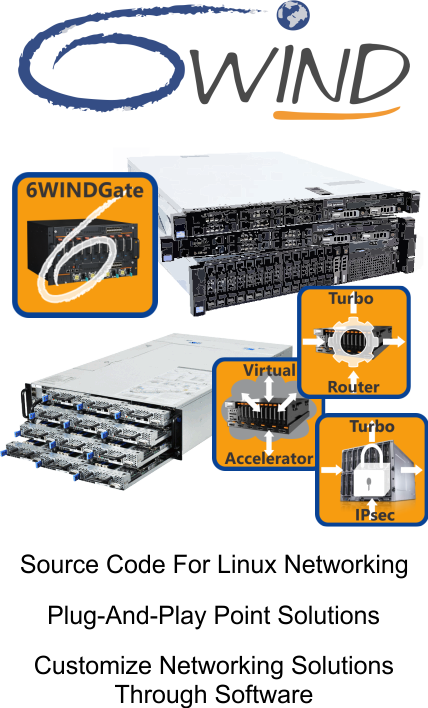 High Performance Networking Software
6WIND software solves performance and time-to-market challenges for OEMs and Network Builders. The company's packet processing software and software appliances are optimized for cost-effective hardware, such as Commercial-off-the-Shelf (COTS) servers, with a choice of multicore processors to deliver a wide variety of networking and security protocols and features.
6WIND software leads the market in vRouter technology with source code and appliance options for x86 and Arm servers.
6WINDGate: Source Code for Linux Networking
6WINDGate packet processing enables the large scale deployment of high performance infrastructure networks required for fast-growing markets such as 4G/LTE and cloud computing. 6WINDGate is deployed by companies such as Alcatel-Lucent, Cisco, Ericsson, Hitachi, Ericsson-LG, NEC, Nokia, and Trend Micro as a critical element of their solutions for mobile infrastructure and data center networks.
6WIND Turbo Appliances: Plug-and-Play vRouter Solutions
Based on over a decade of successful 6WINDGate deployments, 6WIND's Turbo Appliances include multiple points products:
6WIND Turbo Router: Routing software appliance for bare metal and virtual machine configurations.
6WIND Turbo IPsec: Adds IPsec VPN functionality to Turbo Router.
6WIND Virtual Accelerator: vRouter Solution for Hypervisor Networking Power
Based on the industry's leading Data Plane Development Kit (DPDK) software expertise, 6WIND Virtual Accelerator helps partners' NFV and virtual networking platforms with the addition of:
Accelerated virtual switching and routing
Full-featured Layer 2/3 networking and switching
Solutions: Customize Through Software
6WIND software is used to build high performance solutions on COTS servers as an alternative to expensive hardware equipment. Easy upgrade paths from bare metal to virtual machine deployments using the same software further increases cost savings. Popular solutions include:
Secure Site-to-Site VPN
Mobile Infrastructure Security
Network Appliance
TCP
Data Center
NFV