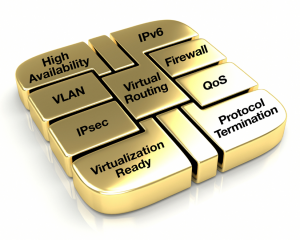 6WINDGate provides an extensive set of Layer 2 through Layer 4 networking protocols, that provide a ready-to-use foundation for the development of high performance networking applications. These are conveniently grouped into Control Plane Modules, Networking Stack Enhancements and Fast Path Modules.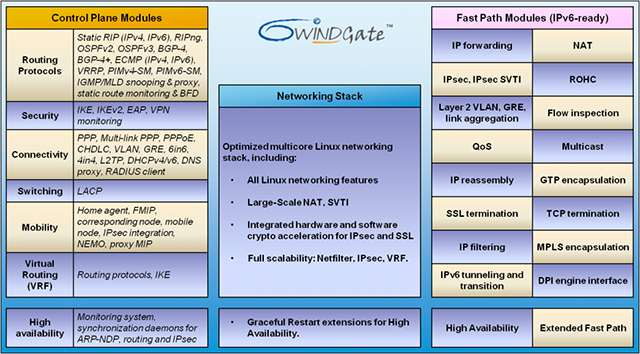 Please click here to see a summary of the full set of protocols available within 6WINDGate. Alternatively, for more detailed information please click here for the full list of RFCs supported by 6WINDGate. All 6WINDGate protocols are IPv6-ready.
One-page feature summaries are available with detailed explanations of certain frequently-used 6WINDGate protocols and features, including:
To address performance and scalability requirements, the 6WINDGate control plane has been extended to support large numbers of objects. Networking protocols are managed from Linux (since the fast path is automatically and transparently synchronized with Linux, as explained in the Optimized Architecture and Linux Compatibility sections), using either Linux tools (iproute, iptables, etc.), the 6WINDGate XML-based management system, or the 6WINDGate CLI. Since the Linux APIs do not need any modification to synchronize the fast path, third-party control plane protocols can be used instead of the 6WINDGate control plane protocols. Depending on the underlying hardware platform, 6WINDGate manages millions of routes, hundreds of thousands of IPsec tunnels or millions of NAT and TCP sessions etc.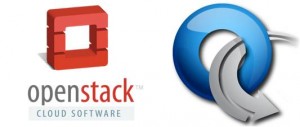 By incorporating full support for industry-standard network management environments, 6WINDGate accelerates the integration process for software developers.
For use in both physical and virtual network appliances, 6WINDGate provides full compatibility with Software Defined Network orchestrators such as OpenStack (or commercial alternatives), as well as with Layer 2 – Layer 3 management software such as OpenFlow (or commercial alternatives).
Key features:
Layer 2 through 4 networking protocols
Split between control plane and fast path
Managed from Linux using Linux tools or XML-based CLI/XMS
Benefits:
Ready-to-use
Full support for third-party and/or proprietary control planes
Industry-standard management plane
To learn more about this topic, please click here to visit our FAQ section.