Critical Business Challenges for Telecom Service Providers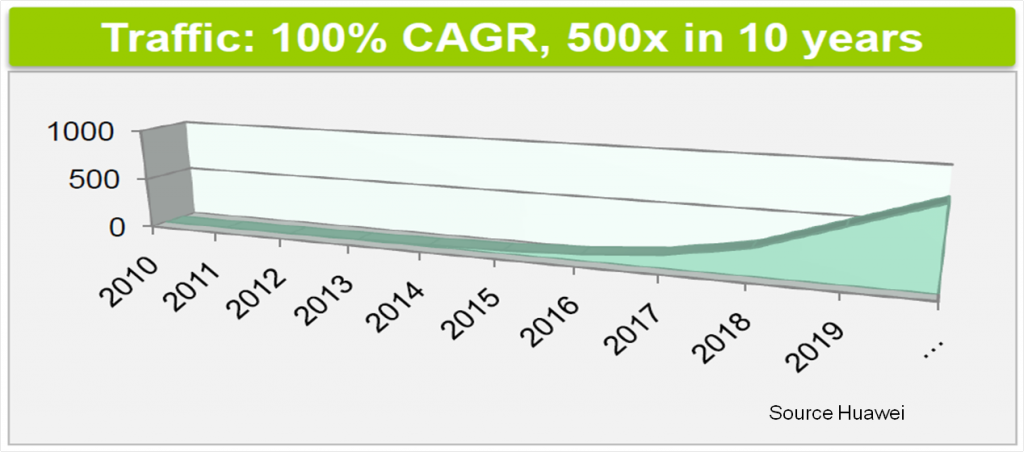 Driven by the number of subscribers and the exponential increase in video traffic, overall mobile data traffic is projected to grow 500x between 2010 and 2019.At the same time, aggressive price competition among carriers has resulted in steadily declining ARPU (Average Revenue per User) despite  on-going advances in the services being delivered. This places extreme pressure on carriers both to improve the cost-performance of their networks and to maximize their resource utilization.4G / LTE, the new standard for mobile networks that provides up to 25x performance improvement for users compared to 3G, continues to gain significant momentum:
105 operators in 48 countries had launched LTE commercially by the end of October 2012. 351 operators have invested or soon will invest in LTE (Source: Global Mobile Suppliers Association).
LTE is on a faster growth trajectory than any other mobile technology, as it will reach one billion connections in just over seven years (in 2017), while it took GSM 12 years to reach that milestone (Source:  Strategy Analytics).
6WINDGate has been selected by a large number of tier-one telecom equipment manufacturers for Radio Access Network, Access / Aggregation and Evolved Packet Core  equipment because its level of performance (in both physical and virtual environments), richness of network features and hardware independence provide a significant competitive advantage.
Please click below to learn about 6WIND's pre-integrated solutions for:
6WINDGate ROI for Mobile Infrastructure
LTE infrastructure revenues reached over $2.1B in 2011, up from $0.6B in 2010. By 2015, they will reach more than $10B, around 20% of total global cellular network infrastructure revenues (Source: Reportlinker.com).
Please click here for information on our mobile infrastructure solutions and details of the ROI improvements that are enabled by 6WINDGate.