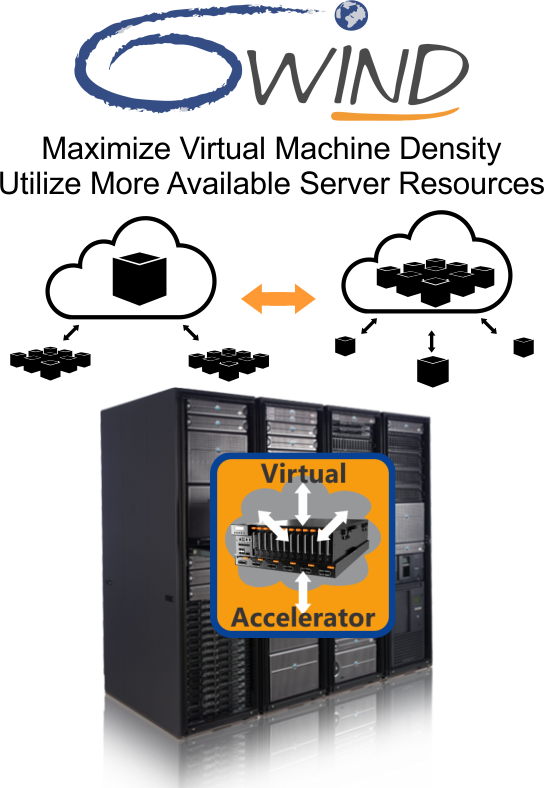 Virtualize to Do More with Less
With virtualization, networking resources can be deployed into cloud layers for service creation and deployment. This is applicable to any SaaS vendor or cloud services provider, or anybody looking to build cheap networking infrastructure that is scalable. It is the falling cost of technology enabled by virtualization that is the most relevant here. However, cheaper costs from economies of scale can only be realized if several obstacles are overcome first.
6WIND Virtual Accelerator is a software tool that exists to address these network performance problems to realize cost savings. It does this by increasing virtual switching performance while reducing processing resources. With the extra resources, additional applications and services can be created without additional infrastructure costs. Overall OPEX and CAPEX are reduced by the performance 6WIND provides, delivering paradigm-changing ROI through software.
6WIND Software for Data Centers
6WIND Virtual Accelerator: Reduces compute resources to maximize VM density and performance with non-intrusive virtual switch acceleration and network infrastructure features including multi-tenancy, routing and firewall. Eliminates SR-IOV and PCI Passthrough to preserve virtualization.
---
6WIND Solutions by Industry
| | |
| --- | --- |
| Public and Private Cloud Service Providers | Deliver fast innovative services and increase workload density by improving your servers' networking capabilities with 6WIND technology. |
| Platform Vendors | Provide Cloud Service Providers with high performance servers based on 6WIND technology. |
| Integrators | Build innovative pre-integrated solutions leveraging high performance virtualization for Cloud Service Providers based on 6WIND technology. |
---
6WIND Virtual Accelerator Data Sheet Download Here
Mirantis Fuel Plugin For OpenStack Networking on YouTube
Canonical Juju Charm For OpenStack Networking on YouTube
Hardware vs. Software Switching White Paper By 6WIND Download Here