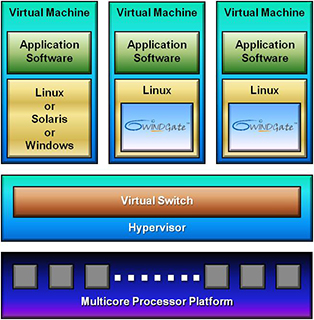 6WINDGate runs in Virtual Machines without any change to the hypervisor (Citrix XEN, Red Hat KVM, VMware ESX etc.).
6WINDGate leverages the Intel® Data Plane Development Kit (Intel® DPDK) software to offload packets from the guest's operating system. To bypass the bottlenecks within standard hypervisors (virtual switch and unoptimized vNIC Linux drivers), IOMMU/VT-d and SR-IOV/VT-c are supported. 6WIND has also extended the Intel® DPDK with the support of virtual NICs (VMXNET3, Virtio, e1000).
Standard hypervisor features such as VM-to-VM communication and live VM migration continue to work independently of 6WINDGate. 6WINDGate also includes hypervisor-independent drivers for VM-to-VM communication to avoid the virtual switch bottleneck.
6WINDGate's optimized packet processing performance is introduced into virtual guests without any modification required to the applications, enabling the smooth virtualization of high performance physical appliances on low-cost commodity hardware platforms.
6WINDGate's virtualization performance benefits network appliance applications such as Application Delivery Controllers (ADCs), firewalls, security gateways and Intrusion Prevention Systems (IPSs). Similarly, 6WINDGate is widely deployed in mobile infrastructure core equipment, where virtualization is increasingly used in Cloud Radio Access Network (CRAN) and Evolved Packet Core (EPC) architectures.
Key features:
Network device pass-through support into 6WIND DPDK
vNIC support in 6WIND DPDK
Benefits:
Optimized packet processing and application performance in virtual network appliances
No need to modify the virtual networking application