With optimized support for a wide range of industry-leading processor platforms, 6WINDGate enables developers to maintain a single, unified application software platform that can be deployed across a product portfolio based on one or more processor architectures.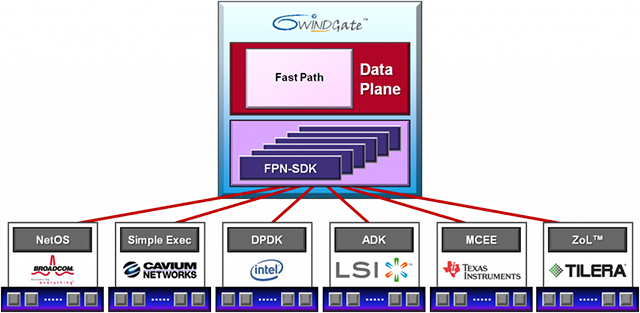 The source code of the 6WINDGate fast path
protocols
is generic, based on a high-level API for packet handling (header manipulation, chaining, cloning), crypto, hardware queues, timers, locks etc., called the "FPN-SDK" API. This API is implemented using the SDK specific to the target processor and uses appropriate capabilities of the processor when available (falling back to software when not available). Example of such capabilities are checksum computation, specific crypto instructions or asynchronous crypto engines, hardware queues etc.6WIND works closely with leading processor manufacturers to ensure that 6WINDGate fully leverages the performance, security and reliability features designed into their multicore architectures, while also making full use of the services available in their SDKs. As an example, on Intel® Xeon® processor platforms 6WINDGate leverages the Intel®
Data Plane Development Kit
(DPDK) poll mode drivers to receive and send network packets directly to and from the fast path independently of the Linux networking stack.
Please click on the appropriate link below for details of 6WINDGate support for specific processor architectures:
In addition, please click here to review the full list of hardware platforms supported by 6WINDGate.
The 6WINDGate software architecture allows Linux (control plane) and the fast path (data plane) to run on different processors. As the fast path implements a run-to-completion model, it can run on a single core, or two cores, or on any number of cores, even distributed over several processors.
A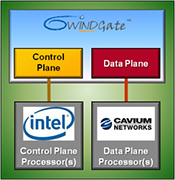 s an extension of the distributed architecture, 6WINDGate provides full support for hybrid system configurations, in which the control plane and data plane run on different processor architectures. A typical example would be a system in which an Intel-based platform is selected for the control plane to ensure full compatibility with existing application software, while a Cavium processor is used in the data plane to maximize performance on specific networking or security protocols.
6WINDGate's architecture portability enables systems to be developed using 6WINDGate on a single processor in a small AMC card, or on multiple processors on the same board in a pizza box form factor, or on up to eight processors distributed among several blades in an ATCA chassis.
Key features:
6WINDGate provides high level APIs for packet manipulation, timers and locks
6WINDGate leverages processor-specific SDKs
Fast path source code is generic
Benefits:
Fast path protocols are available on industry-leading processor platforms
OEMs can develop a portfolio of products sharing the same source code
Support for heterogeneous systems (control plane and data plane using different architectures)
Fast path development can be performed on generic x86 systems